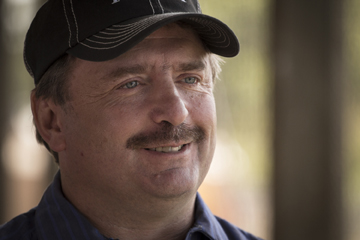 A Wisconsin dairy shares its secrets during a Virtual Farm Tour at Expo.
Dairy expansion and cow comfort have worked hand in hand to achieve high milk production at Sugar Creek Farms in New London, Wis.
Owners Mike Bruette and Jeff Handschke shared the details of their 1,200-cow dairy today at a Virtual Farm Tour at World Dairy Expo. Their veterinarian, Dr. Meagher, was also on hand. Handschke, who remained at home to help with the corn silage harvest, delivered his comments via video.
Bruette and Handschke, who have been friends since high school, began their dairy in 1997 with 320 milking cows. In 1999, they expanded their barn and increased their herd to 500 cows. In 2001, they added a second barn and more cows to grow their herd to 800 head. They built a new parlor and expanded to three separate barns in 2008, bringing their milking string to its present size of 1,225 cows.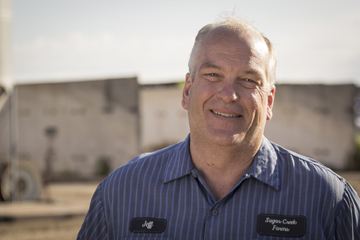 Co-owner Jeff Handschke focuses on the crops and feed for Sugar Creek Dairy.
Along the way, they've focused on cow comfort. "Cow comfort is important for healthy cows and high production," said Bruette, who handles the day-to-day dairy operations.
Partly by adding sprinklers and fans, the dairy has boosted per-cow production from 70 lb. in 1997 to today's 85 lb. Sugar Creek Farms has a rolling herd average of 28,500. Bruette and Handschke rely on 17 full-time employees to help milk the herd three times daily.
The herd is fed once a day. Most of the feed is grown on the farm's 1,900 acres of cropland. Last year, the farm grew Brown Midrib (BMR) corn silage along with conventional varieties. They mixed both into their rations.
Considered a key member of the dairy, Meagher comes to the dairy every Tuesday to do a herd check. "He's a big part of our dairy wellness," Bruette said. "He brings new ideas."
"It's a challenging and satisfying place to work," said Meagher.
Meagher works with Bruette and Handschke to ensure employees follow the protocols that have been established. Meagher says they constantly struggle to keep employees from drifting on procedures.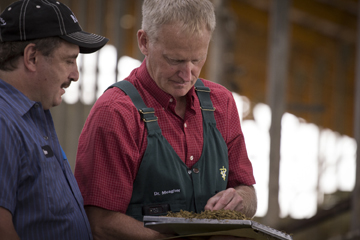 Veterinarian Paul Meagher is a key part of the Sugar Creek Farms team.
Among the technologies Sugar Creek Dairy uses are genomic testing to improve breeding, Radio Frequency Identification (RFID) for electronic monitoring of cows, and ultra sound for pregnancy checks.
"By using genomic testing, I think we've increased our genetics a lot faster than we would have before," Bruette says. "I can see the difference on the numbers coming back already that we don't have as many low ones because we're selling those low ones at birth, so we're not raising them all the way through and spending the money and then not having a good heifer."
The dairy has struggled with mastitis. Bruette partly blames that on the sand bedding in the freestall and the high-stocking density in freestalls. Yet, the dairy's owners are committed to making sand bedding work. About eight years ago, the dairy began using a mechanical sand separator.
"We're just now having good results," says Bruette. "We've learned that you have to wash the sand, to rinse it, before you re-use it."
The dairy's somatic cell count has improved to 225,000.
The dairy won't be expanding anymore – at least for the foreseeable future. "We're maxxed out on available land, unless the farm next door comes up for sale," said Bruette.
Zoetis sponsored today's session.