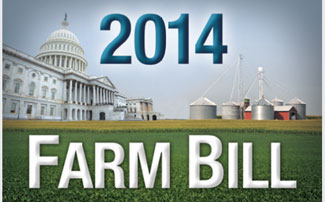 By Katie Humphreys and Alison Rice
Nine points of clarification on farm bill and crop insurance decisions
It's March, which means a mere days remain to decide what the next five years will hold for your farm program payments. A one-time, irrevocable decision—how do you choose? It comes down to the specifics of your operation and perspective on marketing.    

The volatility of the markets complicates the decision between Agriculture Risk Coverage (ARC) and Price Loss Coverage (PLC). "Prices have rallied in the past two months, making ARC more attractive," says Jamie Wasemiller with the Gulke Group. 

The county-based revenue program (ARC-CO) will pay farmers if the county's crop revenue drops below the guaranteed level. "We're virtually guaranteed two years of payments with ARC-CO," says Dick Overby, a Kenyon, Minn., farmer. "A lot of people don't want to give up a sure thing for the unknown."

Other farmers prefer to prepare for the worst in case record crop production outstrips global demand down the road. "If you're bearish, you might want to consider PLC," Wasemiller says. "The prices have to get a lot lower, but PLC could pay out a lot more."

Overall, though, farmers should not plan on a big payoff from these programs, which replace the direct payments of the past. "If anyone thinks they are going to get rich off these programs, they need to rethink the process," says Garry Niemeyer, who farms near Auburn, Ill. "These should be considered a supplement to your income, not something you bank on."

To help bring clarity to your decision, consider these points:
1. ARC and PLC should not be used to replace crop insurance. "ARC and PLC have nothing to do with what you physically plant (ARC-IC might a little)—they only pay out on base acres," Wasemiller explains. "Crop insurance and the Supplemental Coverage Option protect actual planted acres." 

ARC will only pay out on 10% of the revenue benchmark guarantee, which is based on the five-year Olympic average of county yields and the marketing year average (MYA). PLC covers the difference between the reference price and the national loan rate. 

There are payment limits with commodity programs. Participation prohibits farmers with a three-year rolling average adjusted gross income more than $900,000. ARC and PLC payment limits are set at $125,000 per person and $250,000 per couple. The limits do not apply to the Supplemental Coverage Option (SCO), Stacked Income Protection Plan, a new upland cotton crop insurance product or Conservation Reserve Program payments. Crop insurance is not subject to payment limits. 

2. The farm program is based on MYA, and crop insurance is based on the futures price. The futures price is an agreed-upon price with delivery and payment occurring at a future point. MYA is a weighted average price received by farmers for the crops sold during the marketing year as calculated by the USDA–National Agricultural Statistical Service. Market years span harvest to harvest; both corn and soybeans begin in September and end in August and wheat starts June 1 and ends May 31 of the next year. 

"Historically, the harvest price on the board has been lower than the MYA price—making it more likely to pay out on a Revenue Protection policy than ARC or PLC since they use the marketing year average," Wasemiller says. 
3. PLC is a constant "put" for the entire farm bill—corn: $3.70; soybeans: $8.40; and wheat: $5.50. The PLC reference price is based on the national MYA, not the futures, price. 
4. SCO can only be purchased for Farm Service Agency (FSA) farms enrolled in PLC, and the coverage trigger is dependent on county revenue. The option insures crops and revenue between 86% (trigger point) of the base and the producer's level of crop insurance. SCO is subsidized at 65%.

"If a farmer normally elects 75% revenue coverage, adding SCO means they can pay an additional premium to insure up to 86% or an extra 11% of coverage at the county level," explains Paul Neiffer, Top Producer columnist and CPA for CliftonLarsonAllen. 

"Farmers would collect under regular crop insurance based on their individual coverage with SCO, paying only if the county average was less than 86% of expected revenues," Wasemiller adds. "However, SCO is not worth the investment for farmers who want to manage their own risk and don't want to be at the mercy of what happens in the county." 

SCO can help cover policy deductibles. The decision to purchase SCO is made annually. Payouts are expected to be made six months before ARC and PLC.

5. Yield is a big component, though everyone talks about price. County yields determine the insurance indemnity that will be paid out on Area Revenue Protection policies. They are also one side of the equation in determining what will be paid out for the ARC-CO program. 

"Producers are plugging in these county yields and seeing their ARC-CO payment is not going to be nearly what they thought because the county yields are significantly better than the county's five-year Olympic average," Wasemiller says.

Over the five-year life of the farm bill, Neiffer thinks ARC-CO will make larger payments than PLC.

"The bottom line for corn and soybean farmers is in the first and second years," he says. "ARC will most likely
make higher payments than PLC unless prices get extremely low. From the third year to the fifth year, corn prices have to drop into the low $3 range and soybean prices below $8 for PLC to catch up. Farmers have to use their crystal balls on the five-year price trend to determine which is better."
6. Area-triggered programs (ARC and PLC) won't always trigger when you have a multi-peril crop insurance loss. "Unless there is a widespread weather event, it is more likely for a farmer to have an individual loss than for the whole county to experience the same thing," Wasemiller says. "This is another reason why crop insurance is a critical part of risk management." 

7. Enroll enough acres in ARC to get as close to your payment limit each year and then put the rest in PLC. 

"If farmers have enough acres, there is a very good chance they will reach the payment limitations and have to forfeit some of their ARC payment," Wasemiller says. "In this case, consider putting some acres into PLC to use the Supplemental Coverage Option."
8. Everyone who receives a share of the crop must sign the program election paperwork. "While a power of attorney is sufficient, some farmers might have to track down two or more landowners for a single farm," explains Randon Leathers, Cooper County, Mo.,FSA executive director. "That takes time, whether the farmer brings the paperwork to them or the landowners stop by the FSA office. Even if the paperwork is one signature short on March 31, it's considered incomplete."     
9. Because farm programs are based on MYA, which spans harvest to harvest, farmers will have to wait an entire year after harvest to receive the program payment. 

"That could create a problem for farmers who depend on that money to buy seed, fertilizer, etc. They might have to go to their lender for an operating loan," says Joe Outlaw, Texas A&M University Extension economist. "When deciding which farm program to choose, you have to ask yourself how you intend to use the payout. Do you use the money on an annual basis to offset bad prices or only when conditions are bad and the government steps in with financial assistance?" 

While many farmers are waiting as long as possible to get a better handle on prices and see what the Prospective Plantings report reveals, Leathers encourages those who are leaning one way or another to go ahead and make their election. "You can always stop back by the office prior to the deadline and make a simple change," he notes.    

Don't bank on an extension, Leathers adds. "Even if the government grants more time, farmers will be busy with fieldwork and planting, leaving little time to finally make elections."

If you haven't paid a visit to your FSA office, now's the time. You might want to call ahead to see if an appointment is necessary, Leathers notes. 
---

Resources to Help
Farm Journal Media is offering three free webinars with question and answer sessions on March 10, 17 and 24, featuring Jamie Wasemiller of the Gulke Group and Paul Neiffer with CliftonLarsonAllen. A farm bill and crop insurance e-book is also available to purchase for $25 at www.ShopFarmJournal.com. For the latest farm bill news and resources, visit www.AgWeb.com/farm-bill. 
---
Farm Program Decision Guide
By March 31, farmers have to elect one of three farm programs for each of their Farm Service Agency (FSA) farms that will determine program payments for 2014 through 2018 crop years.