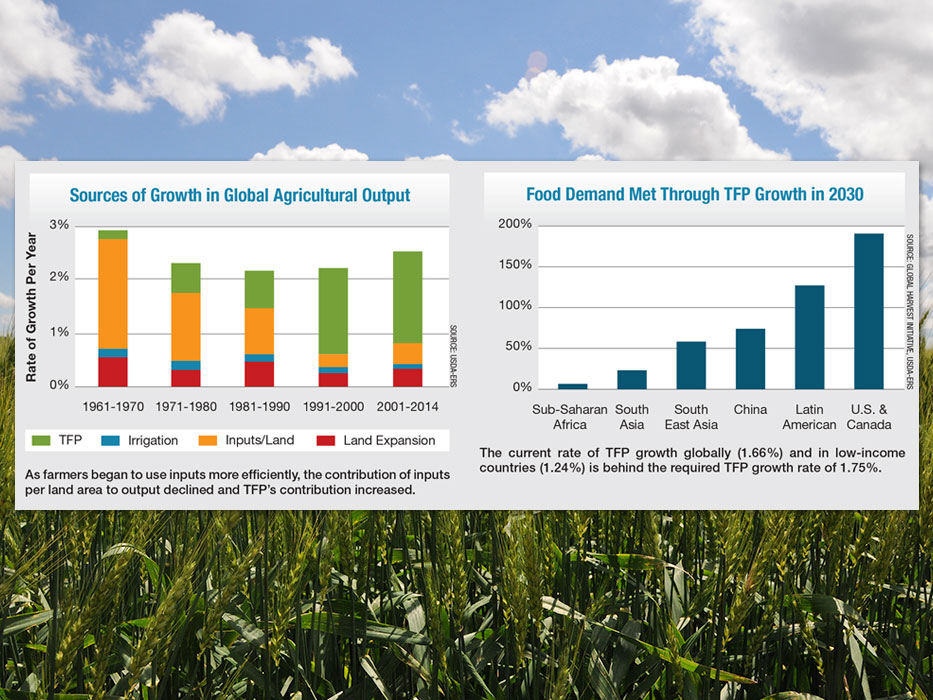 Climate change, conflict, migration, volatile business cycles and compromised global health are obstacles of food security. The challenges are heightened by the fact the global population could hit 10 billion by 2050, said Margaret Zeigler, executive director, Global Harvest Initiative, during a panel at the World Food Prize.
The 2017 Global Agricultural Productivity (GAP) report describes the journey to attaining sustainable agriculture. The progress is measured using Total Factor Productivity (TFP), which is the gross amount of crop and livestock outputs per inputs, including labor, capital and materials. TFP rises when outputs increase without greater investment. For TFP to rise, increased funding in research and development in the public sector must occur.
"How do you know that you're winning?" said Doyle Karr, biotech public policy director, DuPont.
To win requires an annual TFP increase of 1.75%, according to the GAP report. Currently, the rate of TFP growth globally is 1.66% and the rate in low-income countries is 1.24%.
Farmers could increase cropland, expand irrigation and intensify the use of inputs such as fertilizer, herbicides, labor and machinery to respond to increasing demand. However, such increases have short-term benefits and long-term consequences. Instead, focusing on productivity allows for sustainable growth, defined by the United Nations as "meeting the needs of the present without compromising the ability of future generations to meet their own needs."
In the U.S., productivity has increased through research and development rather than more cropland. Today's cutting-edge science could not have even been imagined decades ago, and that science must continue to develop, said Salley Rockey, executive director of the Foundation for Food and Agriculture Research.
That development was funded through the private sector and land-grant universities, said Stewart Leeth, vice president, regulatory affairs and sustainability, Smithfield Foods.
To increase research and development funding, it is necessary to do more than preach to the choir.
"The heartland has different conversations when it comes to agriculture," Rockey said. "Stop talking to ourselves. Start talking to the coasts."
By Morgan Niezing