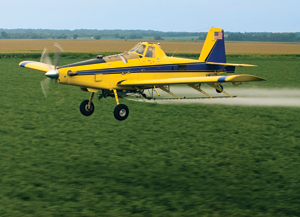 Communication is Key when Sending Up a Spray Plane
Hiring a spray plane for late-season fungicide or insecticide applications reduces the workload on farmers but comes with additional responsibilities.

"I've flown to a field, ready to spray, and noticed that a neighbor had hay windrowed in an adjacent field, or spotted a kid's wading pool and laundry on a clothesline at a farmstead
next to the field," says Dale Bittner, a Norfolk, Neb., spray plane pilot. "That made it so I couldn't spray that field that day. Farmers have a responsibility to tell pilots about things adjacent to their field that could influence when and how we spray."

The location of nearby organic crops, hayfields and beehives and the presence of work crews in seed corn fields are only a few of the many factors spray plane operators need to know when hired to apply chemicals.

"If the farmer himself hires the spray plane pilot, he needs to be ready to supply information relevant to spraying each field because a good pilot will ask lots of questions," says Joel Meyer, owner of Meyer Agri Air in Wellsburg, Iowa. "Sometimes the farmer works through a local agribusiness to get his fields sprayed, and the agribusiness is the one who hires the pilot. In that case, the farmer and a representative from the agribusiness need to work together to relay all the relevant information to the pilot."

The recent surge in late-season application of fungicides and insecticides sometimes exceeds the capacity of local aerial sprayers. Local pilots or agribusinesses then contract with out-of-state spray plane pilots to meet the demand. There have been reports of "gypsy" pilots misapplying chemicals.

"An out-of-state pilot isn't a bad thing, if he's working through a local aerial applicator who will insure his work," Meyer says. "A farmer has the right to ask—and should ask—who will be flying his field and who is responsible if there's a problem."

Kenneth Degg, director of education and safety for the National Agricultural Aviation Association (NAAA), recommends farmers work with local aerial applicators rather than contract directly with out-of-state pilots.

"The local operator's business reputation is on the line," Degg says. "He is going to make sure the [out-of-state] pilots working there are doing top-quality work."

Degg offers additional tips to help farmers ensure their fields are aerially sprayed safely and effectively:
Ask if the pilot is a member of NAAA, and find out if he or she belongs to a state or regional agricultural aviation association. Membership in such organizations implies a higher level of professionalism and provides pilots with ongoing education in technology and regulations.
Ask the operator if he or she has calibrated and pattern-tested the airplane. Calibration ensures that the operator applies accurate per-acre application rates. Pattern testing checks to see if chemicals are accurately dispensed across the width of a plane's application swath at the proper speed and height above the crop. Calibration and pattern testing are part of NAAA's Operation S.A.F.E. clinics that are held around the country. See a list of NAAA members who have been through an Operation S.A.F.E. clinic.
If farmers have concerns about the quality of an aerial application, they should first contact the pilot or the agribusiness that the pilot works for. If that doesn't provide satisfactory answers, they should contact their state agriculture department. The agriculture department in most states oversees chemical application standards and therefore holds authority over the aerial application of chemicals.
 
Meyer says most concerns related to aerial application are easily addressed at the local level.
"The big thing is for farmers to be actively involved when they hire a spray plane," he says. "If they give us accurate information about not only their field but situations in adjacent fields that could affect spraying, we can do a fast, accurate job of applying their chemicals."
---
As Fun and Dangerous As It Looks
"It takes a special breed of cat to be an ag pilot," says Norfolk, Neb., aviator Dale Bittner. "There's no room for error. Period. Make the slightest, teeniest mistake when you're flying 10' off the ground at 160 miles an hour, and you're a statistic."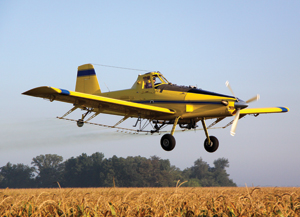 New spray planes operate with the latest GPS guidance and mapping technology and can carry up to 800 gal. of product.
Photo: National Agricultural Aviation Association
Courage (some would say insanity) is only part of an ag pilot's job description. They also get to operate some outrageously cool equipment. Bittner's newest spray plane, a $1.3 million Air Tractor equipped with a 1,300-hp jet turboprop engine and the latest in GPS guidance and mapping technology, is capable of carrying 800 gal. of product that can be applied accurately at as little as 2 gal. per acre.

The old days of dropping toilet paper "streamers" to mark passes over a field have been replaced by GPS-based guidance systems. Bittner and his pilots follow A-B lines on their in-cockpit display, just like farmers who use parallel tracking technology to guide tractors.

"We can't use automatic on/off like farmers do because we have to manually compensate for wind drift of the product," Bittner says. "It takes experience to know that you have to turn on the spray 20' into the field because you've got a certain amount of headwind that's going to drift it back to the edge of the field you're spraying."
Challenges in the air and on the ground.
While pilots use GPS guidance for accurate swath alignment, they can't use auto-steer because they fly so close to the ground. Wellsburg, Iowa, ag pilot Joel Meyer says hilly terrain challenges even veteran pilots.

"If there's a 100' valley between two hills, you've got to follow the lay of the land down into the bottom," Meyer says. "If you see a pilot fly from hilltop to hilltop, allowing the chemical to just drift down into the valley, he's not doing a good job. That's why you see biplanes and piston-engine spray planes in hilly country—they can fly slower, are more maneuverable and can get down into the valleys and do a good job."

Man-made obstacles such as wind turbines are an increasing concern for many ag pilots.

"Those big wind generator towers are a problem," Meyer says. "I've got a few pilots who refuse to fly fields near those towers. They're so big, their propellers reach out so far and they create weird wind currents that make them kind of scary to fly around. Power lines are always a concern, and the new meteorological evaluation towers are becoming a real problem for ag pilots."

Meteorological evaluation towers (METs) are radio towers 50' to 90' tall, not tall enough to be marked on aviation maps or to be required to have flashing warning lights. METs monitor and relay wind speed and other data and are placed around wind farms to manage the operation of the wind turbines.

While concern for personal safety is a priority, ag pilots say the safety of others is also a big factor in their job.

"I've been spraying and popped over a hill, saw a jogger running down a gravel road and had to stop spraying that field till she was at least a mile away," Bittner says. "Spectators can also be a problem. People like to watch us fly, but if they get too close, we have to break off and quit spraying.

"You've got to deal with all sorts of stuff beyond simply flying," Bittner adds. "You don't have to be crazy to fly a spray plane, but it probably helps."