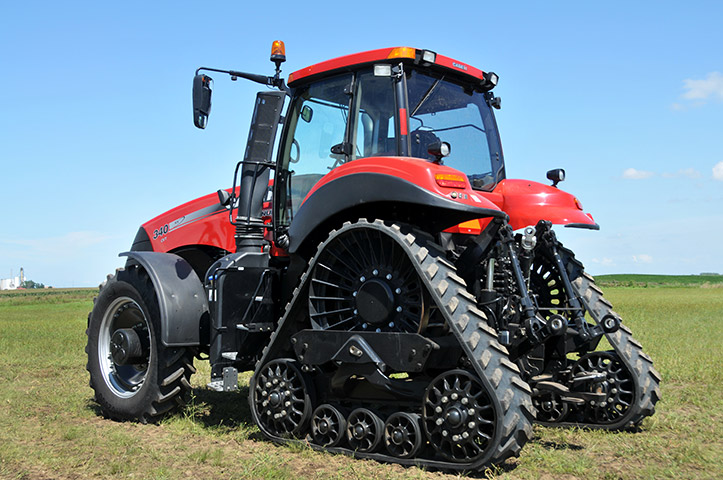 With its 2015 product launch, Case IH continues to focus on equipment efficiency with the ultimate goal of boosting yields. With more than 18 years of experience in track technology, Case IH expands its line with two Magnum Rowtrac tractor models, the 340 and 380. Each model is equipped with a 8.7 L engine, Final Tier 4 compliant, with up to 340 or 380 hp.

"Customers came to us wanting a product with better flotation, maneuverability and more flexibility," says Zach Hetterick, Marketing Manager, High Horsepower Tractors.

Track technology is most often seen in the Case IH Steiger tractor line. Jay Barth, Marketing Manager, Magnum Tractors, shares in the video below how Case IH incorporated the Steiger track technology and the front steering system from fixed frame row crop tractors to design the Magnum Rowtrac models.
The continuously variable transmission (CVT) is standard on the 380 and optional on the 340 with tread spacing under 136" and standard with 136" tread spacing and above. With flotation and traction as high priorities, Hetterick says the duals are optional but not necessary because the single wheels up front offer almost the same agronomic benefits.

A redesigned front tire, which offers 40% less psi than the traditional tire, will offer a larger footprint and further reduce soil compaction from the front end of the tractor. The tire will provide better handling and ride, less rubbing and burning on the ends and full power to the ground.

"This is performance you come to expect from a quad track brought into a fix framed row crop tractor," says Hetterick. "But it still provides the flotation you expect from a track tractor, with four points of contact for increased flotation and more traction with less compaction."

Both models are fully adaptable to narrow or wide row spacing with a versatile undercarriage to meet specific needs. Row spacing can be set at 20", 22", 30", 34", 36", 38" or 40" inches with tracks available in four widths: 16", 18", 24", or 30".

For more information on the Magnum Rowtrac, visit CaseIH.com/Magnum.