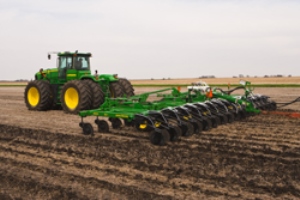 Mosaic Co., the largest U.S. producer of phosphate fertilizer, said it's cutting output of the crop nutrient because of high raw-material costs.
The lowering of operating rates at mines and concentrate plants is primarily because of higher prices for sulfur and ammonia, the Plymouth, Minnesota-based company said today in a statement. The shares fell as much as 2.6 percent.
"Phosphate raw material input costs are disconnected from fundamental agricultural economics, and have escalated despite weaker grain and oilseed prices," Chief Executive Officer Jim Prokopanko said in the statement. "In the near term, we will be margin-focused and will limit inventory build-up during the seasonally-slow part of the year."
Mosaic said third-quarter phosphate and potash sales volumes will be at or close to the low end of its previous forecasts. In the case of potash, that's largely because of production outages caused by weather, while for phosphates it's partly driven by the timing of shipments.
Mosaic fell 2.5 percent to $44.30 at 10:27 a.m. in New York. It has dropped 6.2 percent this year.
In July, the company said it would sell 3.3 million to 3.6 million tons of phosphates in the third quarter, up from 2.7 million tons in the year-earlier period. It also forecast potash sales of 1.8 million tons to 2 million tons, up from 1.4 million tons in the same comparison.
The company said today it doesn't expect to make any layoffs as a result of the cuts. Mosaic still sees "record- setting" global shipments of potash and phosphates this year and more growth in 2015.
Phosphates are vital for photosynthesis in plants while potash helps strengthen roots and boost drought resistance.