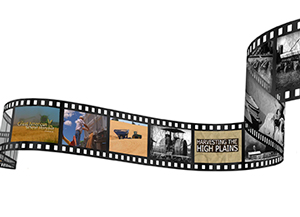 Two documentaries highlight top farmers of yesterday and today
Popcorn is the snack of choice at the movie theater, but wheat is quickly becoming the on-screen star. The crop is featured in two documentaries—one that's complete and another that's in early production.

The completed documentary is called "Harvesting the High Plains." It begins with the confident, even narration of Mike Rowe.

"The 1930s—a time in history that men will never forget, for only the strong survived," says Rowe in the movie's opening scene. "A time when two men came together and learned how to partner with the land, turning dust to fields of gold."
---
People need to understand what growers and custom harvesters go through to produce food
---
The two men were Ray Garvey and John Kriss. Garvey, a lawyer-turned-entrepreneur in western Kansas during the Dust Bowl, saw an opportunity in buying and leasing land. Kriss was a self-starter who convinced Garvey to let him manage his newly acquired farmland. Thus began a partnership the two named GK Farm.

"As our two principals were over 300 miles apart, and phone service during that time was a luxury, these men discussed everything by letter," says filmmaker Jay Kriss.

"Add letters with government officials, bankers and manufacturers—and the script was laid before us, enabling their words to tell the story. This collection entailed more than 10,000 documents," he says.

The two men embraced new (at the time) tillage and seeding techniques, and despite several years of hardships, they were finally able to forge ahead and turn a profit.

To help breathe life into the letters and other artifacts featured in the documentary, Kriss recreated Colby, Kan., as it was 80 years ago, complete with 35 vintage vehicles and more than 60 extras garbed in period attire.

"We culminated our re-enactments with the actual harvest of a period stand of wheat that had been planted the previous year with a 1940s self-propelled Baldwin Gleaner combine, the exact model and type used by GK Farm's contract harvesters," Kriss says.

Kriss still marvels at the logistics of a typical GK Farm harvest, given the coordination required—and without today's technology.

"There were no radios," he says. "No cell phones. No telephones, for that matter. And you have 130 harvesters cutting on the same day. How did you even know where everything was?"

"Harvesting The High Plains" was sponsored by AGCO and has already aired on several state PBS networks, with the hope of national distribution by this summer. The film is also planned to be used by the Foundation for Agriculture in the Classroom in various teaching curriculums.
Follow along. Meantime, a second wheat documentary is just getting underway. "The Great American Wheat Harvest," which began production in January, plans to track Jim and DeAnn Deibert's JKD Harvesting along with four other custom harvest groups as they move through north-central Texas to North Dakota harvesting wheat, oats, barley and more.

"This story has needed to be told for a long time," says Jim Deibert. "Not only from an historical aspect, but to help the American people understand what wheat growers and custom harvesters go through to produce the food that ends up on their table."

Filmmaker Conrad Weaver says he is prepared for a busy year, thanks to funding from John Deere, MacDon, U.S. Custom Harvesters and the Association of Canadian Custom Harvesters.

"Our plan is to be in production all summer and in post-production this fall," he says. "We have a target release date on National Ag Day in March 2014 in Washington, D.C. We want to release in local theaters all along the Wheat Belt and give people the chance to meet the harvesters in person."
For more information on these movies, including show times, visit www.FarmJournal.com/wheat_movies
You can e-mail Ben Potter at bpotter@farmjournal.com.