Released June 2, 2011, the USDA's MyPlate, the replacement for MyPyramid, represents seven key consumer messages from the 2010 Dietary Guidelines.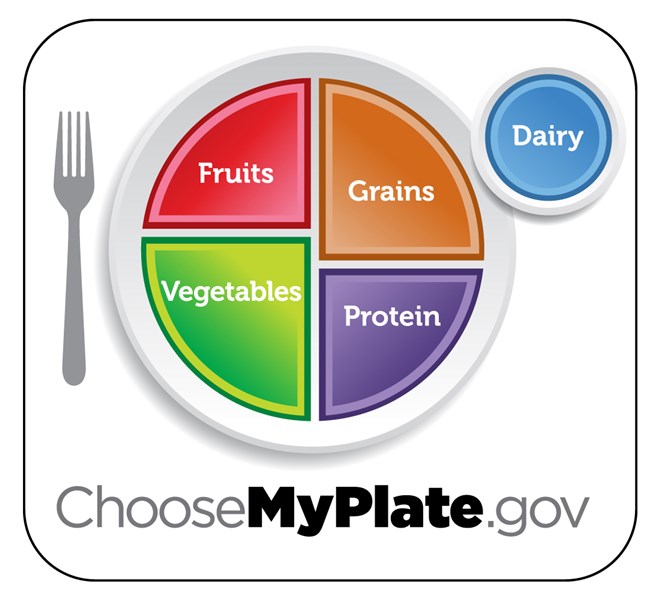 According to the USDA, making changes in three key areas will lead to a healthier lifestyle. MyPlate is a symbol to trigger consumers to make healthy eating choices and to embrace these key messages.
·

       
Enjoy your food, but eat less.
·

       
Avoid oversized portions.
·

       
Make half your plate fruits and vegetables.
·

       
Make at least half your grains whole grains.
·

       
Switch to fat-free or low-fat (1%) milk.
·

       
Compare sodium in foods like soup, bread, and frozen meals – and choose the foods with lower numbers.
·

       
Drink water instead of sugary drinks.
The First Lady, Michelle Obama is thrilled with the new design. She thinks it will be a helpful tool for parents and will make creating healthy eating habits at a young age easier.
"Parents don't have the time to measure out exactly three ounces of chicken or to look up how much rice or broccoli is in a serving," she said. "That has confounded me as a parent for a very long time.  I still don't know how much protein comes in X number of ounces.  And we're all bombarded with so many dietary messages that it's hard to find time to sort through all this information.  But we do have time to take a look at our kids' plates."
For a full tour of the new icon, watch this YouTube video introduction from Agriculture Secretary Tom Vilsack.