Seeds spring life into the dirt—but today they're just sprouting uncertainty. Over the past couple of weeks, citizens around the U.S. and now Canada have received unsolicited, unlabeled seeds with return addresses in China.
The Canadian Food Inspection Agency [CFIA] is investigating reports of individuals receiving unsolicited packages of seeds. CFIA said in a release "these species can invade agricultural and natural areas, causing serious damage to our plant resources." 
Dillion Saltzer in Santa Rosa, California, received seeds unexpectedly days ago.  
"So, mine look like lice almost," says Saltzer. "They are tiny, tiny seeds in this weird bag."  
AgDay national reporter Betsy Jibben asked, "Why do you think you received this package which appears to be coming from China?"  
"I can't begin to explain why," says Saltzer. "I moved out recently. I was even surprised that someone was able to get my address that fast."  
Saltzer moved to his new home in February. He says he shops online but probably not as much as 'anyone else.'  
"I had a feeling something was weird about it but I didn't know to this extent, I guess," says Saltzer.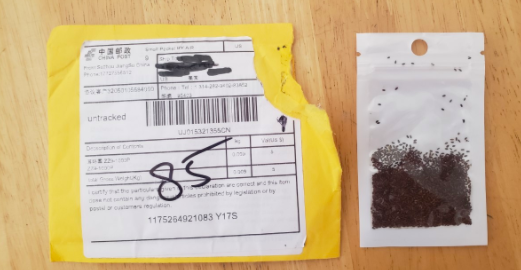 Courtesy: Dillon Saltzer
The package has his name and address but wrong phone number. Another person who received the package, but didn't want to be interviewed on camera, said she had a wrong phone number on a package she received as well.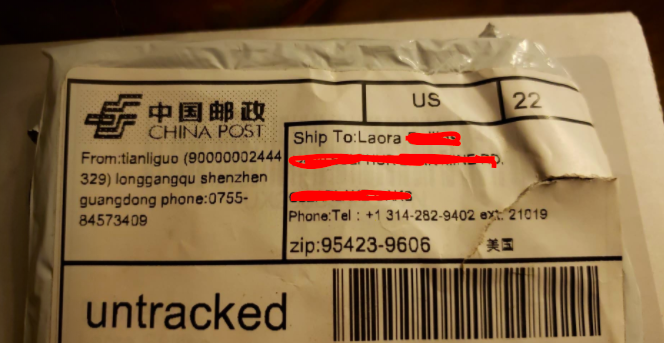 Courtesy: Laora Sullins
A representative with the Washington Department of Agriculture said the department received reports of seeds roughly one week ago.  
"We got some reports on Friday," says Chris McGann, media relations coordinator with the Washington State Department of Agriculture. "That's when we put the Facebook post out."  
The mysterious seeds, all unique shapes and sizes, created a frenzy online of both interest and concern, especially with this post which went viral.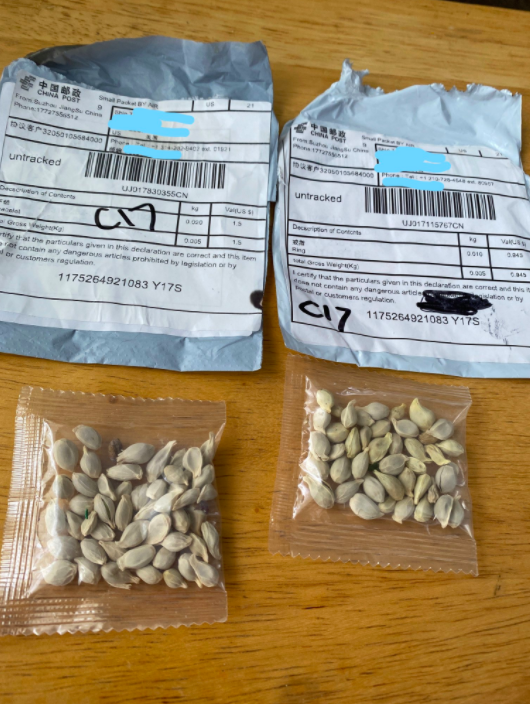 Courtesy: Washington State Department of Agriculture
"We have received 30 million responses or views of our Facebook post since last Friday [and] over the weekend," says McGann.  
Mystery seeds aren't just popping up along the West Coast. The East Coast is battling this uncertainty as well.
Jibben asks, "Has the Virginia Department of Agriculture identified what these seeds are at this time?"  
"No, we have not," says Michael Wallace, director of communications with the Virginia Department of Agriculture and Consumer Services. "As soon as we determined this is a much larger issue, we started sending seeds out to the USDA.  
USDA's Animal and Plant Health Inspection Service [APHIS] division is investigating along with other federal agencies and the Department of Homeland Security.  
USDA's APHIS division released this statement:
"At this time, we don't have any evidence indicating this is something other than a "brushing scam" where people receive unsolicited items from a seller who then posts false customer reviews to boost sales."  
USDA is urging anyone who received the unsolicited packages of seeds to immediately contact their State plant regulatory official or APHIS State Plant Health Director. 
Anyone who receives an unsolicited package of seeds should contact their State department of agriculture or APHIS State plant health director and follow these steps: 
Save the seeds and the package they came in, including the mailing label. 

Do not open the seed packets. 

Do not plant any of the seed. 

If the packets are already opened, place all materials (seeds and packaging) into a zip lock bag and seal it. 

If the seeds have been planted, leave the seeds/plants in the ground until you receive further instruction from your State department of agriculture or APHIS. 
"We are asking you contact your state department of agriculture and report the seeds in that manner," says Wallace.  
At the same time, some biology researchers, who study plant ecology and invasive species, are issuing out warnings.  
"The photos circulating online suggest the seeds are many different species, often vegetable seeds such as tomato, cucumber, citrus and sunflower," says Jason Fridley, an associate professor of biology at Syracuse University's College of Arts and Sciences in an e-mailed press release to Farm Journal.  
"The objective of these mailed seeds is still unclear," says Fridley. "Seeds can, of course, harbor pests and pathogens, and probably some of the species would include known invaders. But people in the U.S. already grow hundreds of species of potential invaders, very few of which are actually regulated." 
 Uncertainty prevails as the seed packaging reveals no clues.
"There's no paper inside," says Saltzer. "It's just the seeds. The only thing I can read is my name on this package."  
Until more questions are answered and test results come back, the mystery of how and why certain people are getting seeds remains.