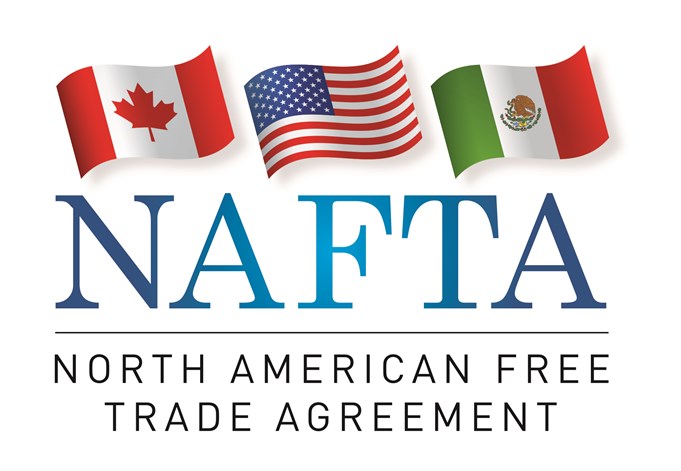 All eyes are on Washington D.C. this week as negotiations begin to "modernize" the North American Free Trade Agreement (NAFTA). However, not everybody was on the same page about what the desired outcome of negotiations should be.
"The first challenge we have is to find a potential common ground for the three countries," said Ildefonso Guajardo Villarreal, Mexico's Secretary of Economy.
When asked to describe the first day of negotiations, ProFarmer's Washington policy analyst, Jim Wiesemeyer said it was like Canada and Mexico were at home plate ready to bat and the Trump administration was already on third base.
Canada and Mexico are seeking small incremental changes but the U.S. Trade Representative, Bob Lighthizer wants the opposite.
"The views of [President Donald Trump on NAFTA] which I completely share are well-known," he said. "I want to be clear. He is not interested in a mere tweaking of a few provisions of a couple of provisions and a couple of updated chapters. We feel that NAFTA has fundamentally failed many, many Americans and needs major improvement." 
According to Wiesemeyer, Lighthizer acknowledged the gains that agriculture has made through NAFTA but says other industries have suffered and must garner the benefits of NAFTA.
"This will feed into the high anxiety in U.S. agriculture that the farm sector will be used as leverage," Wiesemeyer said. "I don't think that's the case, but it will lead to it. It won't soothe the nervousness at all."
Agriculture leaders from all three countries joined together today to encourage negotiators to "do no harm" to NAFTA.
"Our stand is that we do no harm, this has been a good trade treaty for North American agriculture and we want to make sure we have our voices heard loud and clear," said Zippy Duval, president of the American Farm Bureau.
Ron Bonnet, of the Canadian Federation of Agriculture, said there are small ways to make the agreement stronger and more suited for today's agriculture. He hopes negotiations will "focus on increased and improved regulatory alignment, further alignment of sanitary and citosanitary issues, the elimination of non-scientific barriers, and adapting the agreement to technologies not present in 1994."
Bosco de la Vega, president of Mexico's Consejo Nacional Agropecuario agreed that agriculture has traditionally benefited from NAFTA and the relationships between our three countries must be preserved.
"I am the third generation of agriculture growers and we've always had an American or Canadian partner," he said today. "We understand that agriculture is vital to the success of all three countries."
Day 1 Key Take Aways
Negotiations won't be quick. "This is going to be a longer haul if the administration continues to drumbeat on aggressive changes," Wiesemeyer said.
Agriculture industries in all three countries are hoping for minor changes, not a major overhaul.
The Trump administration wants a major overhaul.
Trade surpluses and deficits aren't clear. "You know Canada's foreign minister Freeland's said that actually when you include surface trade with the U.S. the U.S. actually has a trade surplus," Wiesemeyer said. "When you listen to the U.S. side they say we have a big deficit with Canada and an even larger one with Mexico." Getting on the same page is part of negotiations, but Wiesemeyer said the U.S., Canada and Mexico aren't even on the same block.