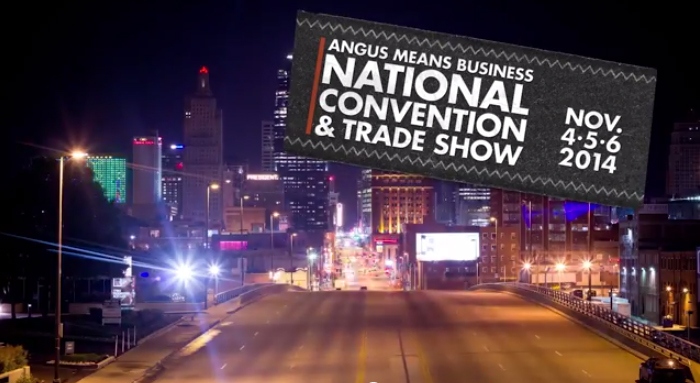 Join the happenings in Kansas City, Mo., and stay tuned to constant coverage from the event.
Cattlemen from around the country are gathering in Kansas City, Mo., this week for the first-ever Angus Means Business National Convention and Trade Show. Hosted by the American Angus Association, the convention will be held Nov. 4-6 at the KCI Expo Center, just minutes from the airport. The Association is also opening its doors today, Nov. 3, for a homecoming tour and special ribbon cutting to commemorate the Angus Foundation's "Building an Angus Legacy Project."
"The National Angus Convention and Trade Show is open for anyone associated with the Angus business," says Bryce Schumann, Association chief executive officer. "Our programs and events will be of interest to Angus seedstock breeders, commercial cattlemen and anyone with an interest in targeting your herd toward the Certified Angus Beef® brand."
Attendees traveling to Kansas City are encouraged to download the Angus Mobile smartphone application for instant updates and a full schedule of events. In addition, there are several ways to stay up-to-date on news from the convention.
·         Web coverage. The Angus Media communications team will be providing updates in the online newsroom at www.angusconvention.com, including speaker summaries, audio and other key announcements.
·         Social media. Join the conversations online by connecting with the American Angus Association's Facebook, Twitter, Instagram and YouTube accounts, as well as theAngus Journal's Facebook and Twitter.
·         Television. A convention-focused episode of The Angus Report will air at 7:30 a.m. CDT on Monday, Nov. 17 on RFD-TV.
·         Magazine. Editorial coverage from The Angus Journal will be shared in the December issue.
Registration for the complete event is $50, and day-only passes are available for $25, which includes access into educational workshops, speakers and entertainment. Association members may attend the Candidates Forum and the Annual Convention of Delegates free of charge.
For more news from the Angus Means Business National Convention and Trade Show, visit www.angusconvention.com. 

Source: American Angus Association