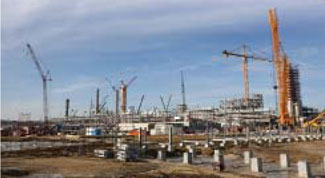 Fracking technology tips the favor back to domestic natural gas and fertilizer production
It's a supply and demand tale that bodes well for farmers: At the tail-end of the 1990s, fertilizer supplies were relatively balanced. But when natural gas prices began to climb, many U.S. fertilizer producers were burned out of the business. 

In the past seven years, fracking technology has become an important recovery vehicle for domestic natural gas, allowing U.S. fertilizer producers to regain their market feet. With shale gas, the price of natural gas has returned to normal levels, setting the stage for more fertilizer production in the U.S. 

The U.S. imports 12 million tons of nitrogen fertilizer each year. Iowa Fertilizer hopes to fill the gap with a nitrogen fertilizer plant currently under construction in Lee County, Iowa, and set for full operation by the fourth quarter of 2015. 

"We see shale gas keeping fuel prices in check for the long term. These type of plants aren't built to last 10 years; they're built to last at least 50 years," says Shawn Rana, president, Iowa Fertilizer. 
Nitrogen fertilizer depends on an ample supply of natural gas. Hydrogen used in nitrogen fertilizer production comes from two sources: natural gas and water. 

"Fracking, or taking a pipe and hydraulically moving it through soil, rock and sand to reach a vein of energy, 
is going to have a major impact on all agriculture markets," said Dan Basse, AgResource president, at the American Seed Trade Association 2014 Corn and Sorghum Seed Research Conference, Soybean Seed Research Conference and Seed Expo in Chicago. 

"The world is sitting on a load of untapped energy," Basse said.

Iowa Fertilizer's plant will produce anhydrous ammonia, urea, urea ammonium nitrate (UAN) and diesel exhaust fluid. The plant will serve Iowa, Illinois, Indiana, Missouri and Minnesota with 1.5 million to 2 million tons of nitrogen fertilizer a year.

"A lot of fertilizer plants have been announced, but we're the first out of the gate. We're building the most 
efficient and environmentally-friendly plant in the industry. That speaks for the revitalization of the fertilizer 
industry," Rana says. "Our plant production will also decrease U.S. dependence on imports and give farmers a local option."

While the rail system is burdened with the task of transporting energy, fertilizer, grain and other ag products, Rana doesn't foresee rail transport problems for Iowa Fertilizer. 

"We're going to transport UAN and urea by rail, but not anhydrous ammonia," he says. "At the end of 2015, we will be in our customers' backyards and we will be saving money for farmers."