We can say it now... gosh, that was a cold winter. In fact, Chicago posted its coldest winter on record since 1872. That led to strong natural gas consumption which was nearly 1 trillion cubic feet above expectations. For many other Midwestern states, the winter was between the fifth and tenth coldest winter on record. These near-record setting readings were not, however based on single day readings, but rather average temperatures throughout each month. So while cold spikes may not have been the story, sustained cold temperatures drove averages lower.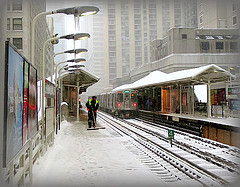 However, the West Southwestern part of the nation had just the opposite with warmer than expected temperatures, and minimal precipitation. EIA reports California had its warmest winter on record. Arizona had the fourth warmest winter since 1895-96. Meanwhile, Dallas, TX, heating degree days were 20% above the five-year average, meaning that, as Arizona set records for winter heat, Dallas shivered.
The spring warmup is taking its own sweet time and despite warm temperatures this week, forecasts call for lower temps next week and in northern areas, that might well mean keeping the heat on for another week or so. That will continue to limit injections into storage, and hold prices in place until injections meet seasonal expectations.
Inventories stand at 826 Billion cubic feet (Bcf) -- 50.7% below year-ago and 54.7% below the five-year average.
This week notes a 4 Bcf net injection into storage.
Storage injections fell short of expectations of 14 Bcf.
May '14 natural gas opened today at $4.63 1/2 -- 20 1/2 cents above last week's Natgas Report. Bulls will target $4.66 and $4.89. Support lies at $4.22 along the way to the January low at $3.85.
The average temperature in the continental United States during the report week was 49.0°F -- that's 1.6°F above the same time last year and 0.3°F above the 30-year average temp.
Prices --
"The Henry Hub spot price rose by 31 cents/MMBtu this week, to $4.66/MMBtu yesterday. Temperatures warmed this week in most of the United States, contributing to price increases that were less pronounced than those seen at Henry Hub. Prices rose slightly at most major markets, with the exception of Boston and Chicago, where spot prices decreased slightly. After decreasing slightly last week, the Nymex May contract rose this week, from $4.364/MMBtu on Wednesday, April 2, to $4.586/MMBtu 4/10. The 12-month strip (the 12 contracts between May 2014 and April 2015) rose slightly, from $4.454/MMBtu last Wednesday to $4.624/MMBtu this Wednesday," according to EIA.
Consumption --
"Warmer temperatures this week contributed to a 4.1% week-on-week decline in total consumption, from an average of 67.5 billion cubic feet per day (Bcf/d) last week to 64.8 Bcf/d this week. This was the second week in a row that consumption decreased, and the lowest weekly average since the beginning of November 2013," according to EIA.
---

Indicated text provided by EIA.
Photo credit: yooperann / Foter / Creative Commons Attribution-NonCommercial-NoDerivs 2.0 Generic (CC BY-NC-ND 2.0)