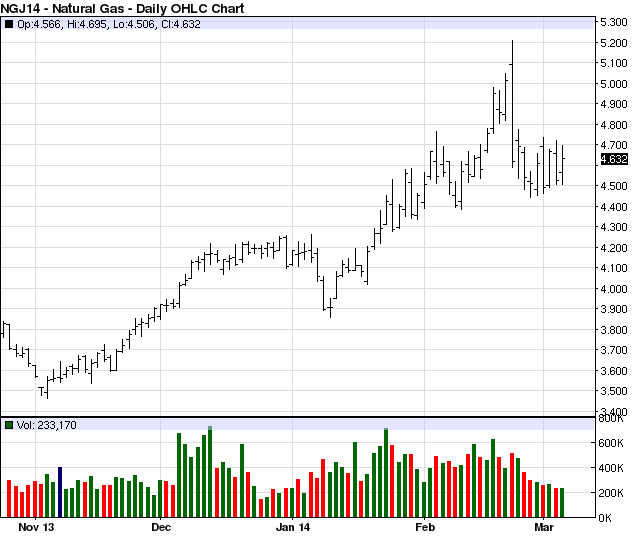 Many now believe that it will take $5.00 natural gas to keep the industry moving. The promise of abundant resources is exciting and has implications for energy independence. But infrastructure lags and the regulatory burden is so weighty that it impedes progress. Overland pipelines must answer to as many as 30 different regulatory entities, many with overlapping rules and regs.
Add to the regulatory expense, the actual operational expenses of drilling and maintaining operations in the field, staffing, management -- the bills add up quickly. Currently there are only two export locations cleared to export LNG and that number will have to increase if a genuine boon is to take place, but natgas priced with a two dollar handle just won't cut it for producers. In order for long term investment to stick in natural gas infrastructure, the market must prove it is worth more than what it has been getting.
That means prices will have to climb high enough for long enough to coddle investment dollars into signing on the dotted line. Natural gas reserves and fracking have been thus far expected to create a sort of Panacea of energy in the United States. The irony is, we will not be able to take advantage of shale gas unless it bears a price tag that is consistent and attractive enough to guarantee -- careful of that word -- profits for natgas producers. That is why we still see natgas burned off in the field and why natural gas from domestic shale will do us very little good toward energy independence until it consistently returns profits worthy of the oil and gas industry's outlay.
Inventories stand at 1,196 Billion cubic feet (Bcf) -- 43.2% below year-ago and 38.8% below the five-year average.
This week notes a 152 Bcf net withdrawal from storage.
Storage draws exceeded market expectations of 138 Bcf.
A general warming trend should contribute to declining withdrawals in the coming week.
March '14 natural gas opened today at $4.56 -- 8 cents above last week's Natgas Report. Bulls will target $6.50 and 6.69 on their way to retrace back to the 2008 high of $13.37 1/2 with tough support at $3.95. Support lies at $3.95 along the way to $3.62 and $3.12.
The average temperature in the continental United States during the report week was 36.9°F -- steady with the same time last year and 2.4°F below the 30-year average temp.
Prices --
At the New York Mercantile Exchange (Nymex), the April 2014 contract decreased by 1.3 cents/MMBtu over the report week to $4.523/MMBtu. The April contract took over as the front month contract on Thursday, February 27. On Wednesday, February 26, the March 2014 contract settled at $4.855/MMBtu. This was a significant decrease from Wednesday, February 19, when it traded at $6.149/MMBtu, the largest near-month futures price movement in more than four years, according to EIA.
Consumption --
Consumption increased in all sectors this week, with the biggest increase taking place during Monday's cold snap. Consumption this report week averaged 101.8 Bcf/d. This was 24% higher than last week's average of 81.8 Bcf/d, and 19% higher than consumption during the same week in 2013. Most of the 20.0 Bcf/d increase in average consumption over last week came from the residential and commercial sector, which saw consumption rise by 13.6 Bcf/d (32%) to 56.0 Bcf/d. Industrial consumption and Mexican exports both rose over week-ago levels despite this week's higher prices, while power burn rose nationally by 5.0 Bcf/d (32%) over last week to 20.8 Bcf/d. Power burn was flat or down in the western United States, but rose by 1.8 Bcf/d (40%) in the Southeast, 1.3 Bcf/d (53%) in Texas, and 1.2 Bcf/d (34%) in the Northeast, according to EIA.
---

Indicated text and data provided by EIA.