The Crimean referendum vote scheduled for this weekend is the culmination of decades of struggle in Ukraine. Aggression from Moscow has, so far, gone unchecked and as the world looks for sanctions with teeth, the U.S. is releasing crude oil from the Strategic Petroleum Reserves to reduce the global price of oil and curtail Putin's export revenue. The hope is that Putin will fear a supply overhang and back off his aspirations to annex Crimea.
The Putin Administration has wielded natural gas as a weapon, however in years past and if the U.S. wants to weaponize a commodity, natural gas is a much bigger stick than light sweet crude. 16% of the natural gas consumed by the European Union transits through Ukraine. If the United States could flood Europe with natural gas, especially Germany, Italy, Slovenia, Poland and the Czech Republic, the statement would carry more weight.
But in order to transport natural gas via ocean vessel, natgas must first be liquefied. That process, coupled with shipping costs would put U.S. natural gas prices in Europe at about the same level as gas from Russia. There would be very little price break for the E.U. by the time we convert natural gas to LNG (liquefied natural gas) and float it over. The other, larger problem with exporting natgas to Europe is the fact that only two U.S. ports are equipped and approved to ship LNG, and most believe that, due to red tape and the need for fresh infrastructure, it could be ten -- some say twenty -- years before we can export enough LNG to make a dent in the global supply scene.
Hitting Putin in the natgas would be a strike that has teeth and if exports to Europe -- or even just to Ukraine -- can be managed, Russia would have to take notice. I doubt sanctions from any angle will be sufficient to dissuade Putin from reassembling the former Soviet Union, however, and his delusions of grandeur cannot be sanctioned. Given the mountainous task and startup expense ahead for natgas exports, this idea can be no more than a 'what if'.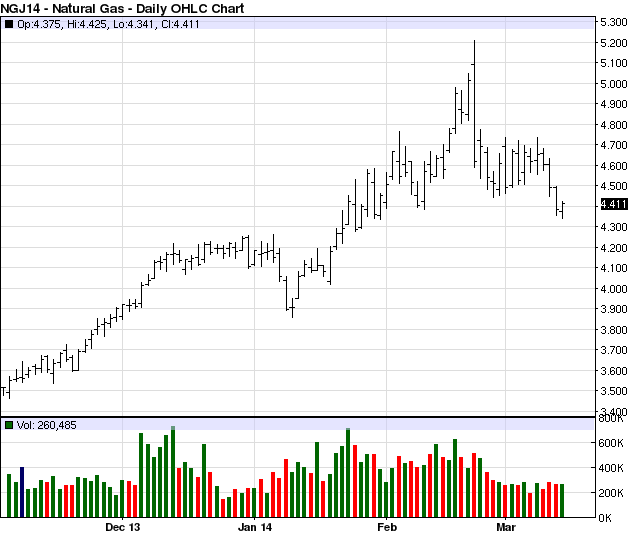 Inventories stand at 1,001 Billion cubic feet (Bcf) -- 48.9% below year-ago and 46.2% below the five-year average.
This week notes a 195 Bcf net withdrawal from storage.
Storage draws were just below expectations of 198 Bcf.
A general warming trend should contribute to declining withdrawals in the coming weeks.
March '14 natural gas opened today at $4.37 -- 19 cents below last week's Natgas Report. Bulls will target $4.73 and $5.20. Support lies at $4.27 along the way to $4.01 and the January low at $3.85.
The average temperature in the continental United States during the report week was 31.1°F -- that's 7.1°F below the same time last year and 9.9°F below the 30-year average temp.
Prices --
At the New York Mercantile Exchange (Nymex), the April 2014 contract increased through trading on Tuesday to $4.605/MMBtu. By the end of trading Wednesday March 12, however, it had decreased to $4.490/MMBtu, 3.3 cents/MMBtu lower than last Wednesday's closing price. The 12-month strip, or the average of all contracts from April 2014 to March 2015, rose to $4.627/MMBtu through trading on Tuesday, but then dropped Wednesday to $4.540/MMBtu, a 2.3 cent/MMBtu decrease below last Wednesday's strip, according to EIA.
Consumption --
Following an increase in all sectors last week, natural gas consumption decreased across all sectors for the current report week. Total U.S. consumption averaged 74.3 billion cubic feet per day (Bcf/d), 27% less than last report week's 101.4 Bcf/d average. Consumption dropped sharply from Thursday, March 6, to Friday, March 7, from 90.7 Bcf to 78.9 Bcf, and again over the weekend, when consumption averaged 72.5 Bcf/d. Total U.S. consumption dropped again on Monday, March 10, and Tuesday, March 11, when it averaged to 63.7 Bcf/d. Consumption rose sharply on Wednesday, March 12, to 78.4 Bcf, although this was still 15% less than demand on the previous Wednesday, according to EIA.
---

Indicated text and data provided by EIA.