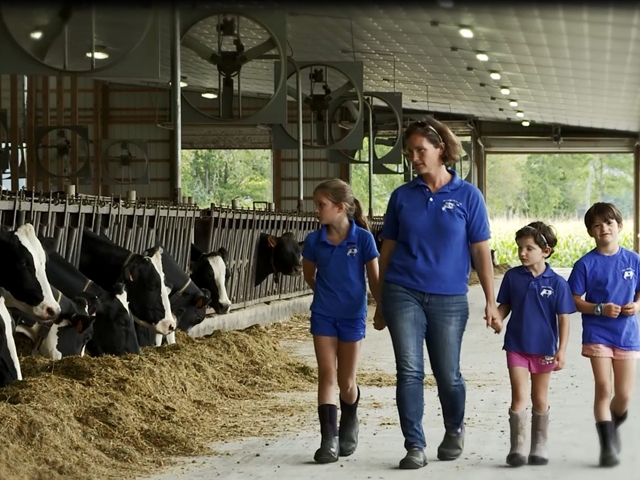 An up-close, first-hand look at the new robotic milking operation of our 2014 Dollars & Sense producer from New Hampshire.
It may seem that nature and robotics don't go hand in hand, but in fact they're a powerful and successful combination at Tullando Farms dairy in Orford, N.H.
Rendell Tullar, one of Dairy Today's 2014 Dollars & Sense producer columnists, and his family incorporated a robotic milking system this year at the third-generation dairy.  Today, they're efficiently milking 450 cows on eight robotic milkers – but the technology doesn't stop there. 
Automatic alley scrapers, robotic feed pushers, mechanical cow brushes and all-important transponder collars on each cow are key parts of the operation.
"Information collected in the computer from the transponders keeps updating all the time," says Tullar. "From it, we know how much the cow has moved around in the barn during the day, whether she's going to feed or not, whether she's coming to the robot, if she's off her feet and needs some attention, or if she's in heat and needs to be bred."
That means Tullar no longer needs to physically check each of his 450 cows. "I can go to the computer and see it," he says. "It's a huge change for me."
"We've tried to create as natural an environment as possible for these animals," says Carole Ann Tullar, who is married to Tullar's son, Nate. The family and their dairy "embrace the technology without compromising the quality that makes it a family farm," she adds.
With robotic milking, the Tullar's milking cows live in a non-herding environment. "Humans are never asking the cows to get up or pushing them against their natural rhythms or schedule," says Carole Ann.
"Technology is here now, but it's the way of the future," Rendell says. "If you embrace it, work with it, you're going to be better off in the long run – and maybe still be here in the next 20-30 years."
Rendell Tullar is one of Dairy Today's four Dollars & Sense producers who will appear on a panel at 3:45 p.m. on Monday, Nov. 3 at the Elite Producer Business Conference in Las Vegas. He will share a video of his impressive New Hampshire dairy operation and answer questions about why and how he made the leap into robotic milking.
Also joining Tullar on the Dollars & Sense panel will be dairy producers Julie Maurer of Wisconsin, Mark Rodgers of Georgia, and Pete Wiersma of Idaho.