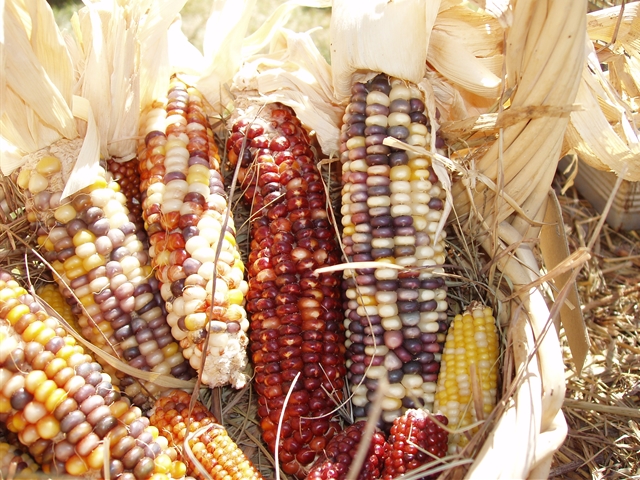 A nearly extinct corn crop of the Pawnee Nation has sprouted once again thanks to a gardener's work in south-central Nebraska.
Before the Pawnee were forced out of Nebraska, they took as much as they could carry to Oklahoma, including the seeds they would need to start over, The Grand Island Independent reported.
But the corn kernels wouldn't take to the soil. So the Pawnee kept the seeds and avoided trading them because they were sacred to their culture.
The corn was nearly extinct until Ronnie O'Brien of Great Platte River Road Archway contacted the Pawnee Nation in Oklahoma and was connected with Deb Echo Hawk, a Pawnee education program director. O'Brien was interested in growing Pawnee crops as part of a Native American education program she wanted to start.
O'Brien spoke about her journey harvesting the ears of Pawnee corn on Thursday at the Grand Island Public Library as part of the Moonshell Arts and Humanities Council's Munch and Learn Series.
O'Brien, who has been gardening since she was a child, said Echo Hawk sent her 25 kernels of eagle corn, because of her experience growing plants. She said a second family also sent 50 yellow corn seeds as well.
But cool temperatures that spring caused the eagle corn seeds to rot. She was still able to grow the yellow corn seeds and harvest 23 ears.
O'Brien was sent 25 more eagle corn kernels by Echo Hawk, but since that left her only with 25, no more would be sent. O'Brien asked a biologist to help and he was able to grow 17 of the eagle corn seeds, she said.
Eagle corn, named for dark spots on its white kernels that look like an eagle in flight, are believed to date back to the 1200s when the Pawnee traveled toward Nebraska from Central America, she said.
During the last several years, O'Brien has received other varieties of Pawnee corn and grown it with varying degrees of success. All the corn she grows is given back to Echo Hawk and the Pawnee.