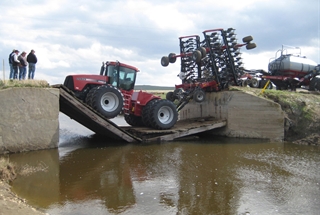 Nebraska counties will ask lawmakers for help next year in repairing thousands of crumbling rural bridges that allow farmers to haul their products to market.
While they haven't settled on specifics, the counties could request targeted state aid for roads and bridges or changes in state law that would give them more freedom to use bond-financing for projects.
Senators heard the suggestions during their final legislative hearing Tuesday on how to address the problem. Members of the Transportation and Telecommunication Committee traveled the state to examine the bridges and will publish a report of their findings in the next few months.
Sen. Annette Dubas of Fullerton, the committee's chairwoman, said the issue affects the whole state because the lack of infrastructure imposes a burden on agriculture, Nebraska's largest industry. Dubas leaves offices in January because of term limits, but said she plans to send the report to all 93 county governments in Nebraska so that local officials will press the issue next year.
"There are some very legitimate opportunities here for the state to partner with local governments," Dubas said. "This isn't just a county problem. It's a state problem. Infrastructure serves our economy, and we need to make sure that it stays sound."
Nebraska ranked seventh nationally last year in the percentage of bridges that were considered structurally deficient, according to a July report by TRIP, a nonprofit transportation research group based in Washington, D.C. The state had 14,595 bridges, and about 19 percent had structural deficiencies.
The bridges are generally considered safe but might have size and weight restrictions that prevent trucks, farm machinery and other large vehicles from crossing.
Saunders County in eastern Nebraska is among the hardest-hit. Officials have closed 19 bridges due to disrepair, flooding, or because they aren't strong or wide enough to support modern farm machinery, said Steve Mika, the county's public works director. Some have been off-limits to motorists since 2008.
"We have to do something soon to address this issue and get everything caught up," Mika said. "It's a struggle. You fix one, and three more go bad. People here have been very patient, but it's not going to last."
Of the county's 430 rural bridges that are at least 20 feet long, Mika said, roughly 100 have weight restrictions that prevent large vehicles from crossing. Many were built in the 1940s and 1950s to cross tributaries of the Platte River. In addition to their age, many bridges sit in river and stream channels that have grown wider and deeper over time.
Mika said the county has increased his department's budget, but the bridge projects remain expensive. Replacing a 100-foot bridge can cost as much as $400,000, he said.
The state's bridges and roads have become a substantial concern for farmers as their equipment becomes larger and heavier, said Jay Rempe, a lobbyist for the Nebraska Farm Bureau. Rempe said some members have spoken of having to drive 10 to 20 miles off their route just to find an adequate bridge.
Members recognize that local governments should cover some of the cost, he said, but they also complain that property taxes are too high.
"From our perspective, it's one of critical importance not just for farmers and ranchers, but the state as a whole," he said. "It's an issue that needs to be addressed."
Counties can increase their spending on bridge projects by as much as 3.5 percent per year before they hit a state-imposed spending lid, said Larry Dix, director of the Nebraska Association of County Officials. But Dix said the bridge problems have become so widespread in some counties that local governments can't keep pace the need.