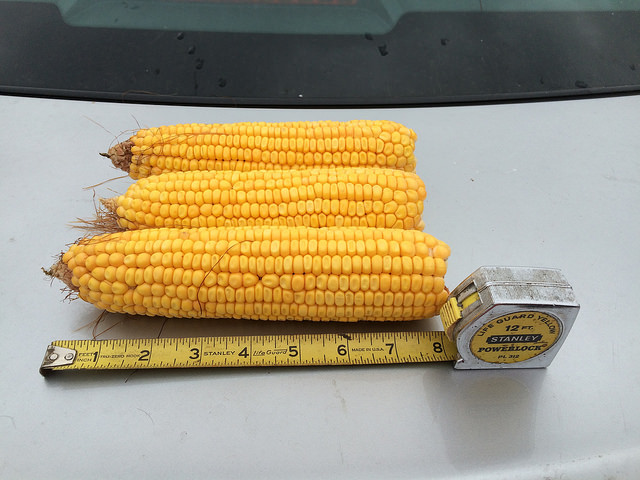 After two days in the fields, scouts on the Pro Farmer Midwest Crop Tour have their doubts about the prospect of achieving the record 187 bpa corn yield projected by USDA in August.
"I've been a little disappointed by the ear counts," said Luke Lauritsen, who farms in Arlington, Nebraska. "They've been a little light."
On Tuesday, for example, he scouted 13 cornfields in districts 8 and 9, which cover counties like Thayer, Pawnee, Nuckolls and Adams. His route's average ear count: 75.15, which proved to be below the state average of 87.65, according to Pro Farmer data.
Even irrigated corn fields appeared to be running below expectations. Lauritsen's group took samples from three irrigated fields that produced an average rough yield of 184.33.
Scouts' suspicions were confirmed Tuesday night, when Pro Farmer crop tour data showed a rough yield of 158.6 for Nebraska, a drop of more than 6.5 bushels per acre from 2015.
#pftour16

To me, Nebraska corn yield might be about as disappointing as being a Huskers fan. pic.twitter.com/l49naBdEk6

— Jarod Creed (@JrodCreed) August 23, 2016
Dry conditions certainly could be taking a toll on Nebraska corn. "Last year, you couldn't tell the difference between dryland and irrigated corn in this part of the world," said Jarod Creed, director of customer risk management for Gavilon.
Green snap has also been a problem in the state. In Nemaha County, scouts found a field with 30% green snap. "Every third stalk was green snap," said Lauritsen. The rough yield? A painful 80 bushels per acre.
Cornfields in Burt, Dodge and other surrounding areas also revealed green snap from a late June storm that brought damagingly high winds. "It was Tuesday, June 28," recalled master crop tour scout Tim Gregerson, who farms in Herman, Neb. "We had 70 mile an hour winds." The severe weather lasted for three days, damaging cornfields that had been replanted that spring and were at the pre-tassel stage.  "It affected a strip about five to 15 miles wide, from Columbus to Omaha," Gregersen added.
The storm certainly wreaked havoc on farmers' fields, leaving corn stalks twisted and snapped. In Burt County, for example, scouts found one of those fields, which had a rough yield of 163 bushels per acre, according to Pro Farmer calculations. Others saw far worse, such as a Clay County field shown in the scout video below.
Clay County Nebraska field had 70-80% green snap. Farmer said this is common. 61 bu/ac Ave
@JrodCreed #pftour16 pic.twitter.com/lOWGaL4qsj

— Tony Mellenthin (@MellenthinFarms) August 23, 2016
Year over year, though, ear counts were up slightly in Nebraska with an average of 87.65, as were kernel rows, with a statewide average of 16.26. But grain length dropped by 5% to 6.80 inches.
The situation was different for soybeans. "I thought the beans were impressive, with a lot of good pod counts," said Lauritsen.
According to Pro Farmer data, Nebraska soybeans held steady in 2016, with an average of 1,223.07 pods in a 3 x 3 square. That's essentially the same as last year, when scouts found an average of 1,220.02 pods per 3 x 3 square. (Unlike corn, the Pro Farmer Midwest Crop Tour does not estimate yield for soybeans, just potential for yield.)
Those numbers could go higher if the weather cooperates. In contrast to the wet and muddy fields experienced by last year's Western leg scouts, the soil this year has been dry and cracked. In 2015, Pro Farmer scouts reported an average moisture level of 4.89 in Nebraska's soybean fields, with a "5" indicating recent rains. This year, that fell more than a full point to 3.73.
Another big difference from last year: weed pressure. While scouts found many clean soybean fields, they also found fields choked with waterhemp plants between four and five feet tall.
What happened? Farmers might have missed the date for pre-emergence weed treatment or chosen not to apply one, due to cost concerns.  They might have planted corn the year before and not realized just how bad their waterhemp problem had become, hidden behind the corn plants.
Should we count the soybeans or the weeds? https://t.co/JSaANu8VPW

— Alison Rice (@agweb_alison) August 24, 2016
Whatever the reason, though, "It's now a real mess," said scout Lawrence Landsteiner, who farms in Minnesota. A typical waterhemp plant can produce 250,000 seeds, which can then survive in the soil for as long as four years, according to the University of Missouri Extension.
It's also a yield robber, with the power to reduce corn and soybean yields by 15 to 44%, according to North Dakota State University.  With one particularly bad waterhemp-infested field in Webster County still posting a potential of 1,3194.94 pods, it left scouts wondering what sort of yield that farmer might have seen with better weed control.
Follow Farm Journal Media's Pro Farmer Midwest Crop Tour #pftour16 Leaders Chip Flory and Brian Grete, as well as Ben Potter, Alison Rice and Betsy Jibben. Follow Julianne Johnston for official Tour results. Additional Pro Farmer Midwest Crop Tour information is available on ProFarmer.com, part of the Farm Journal Media family.