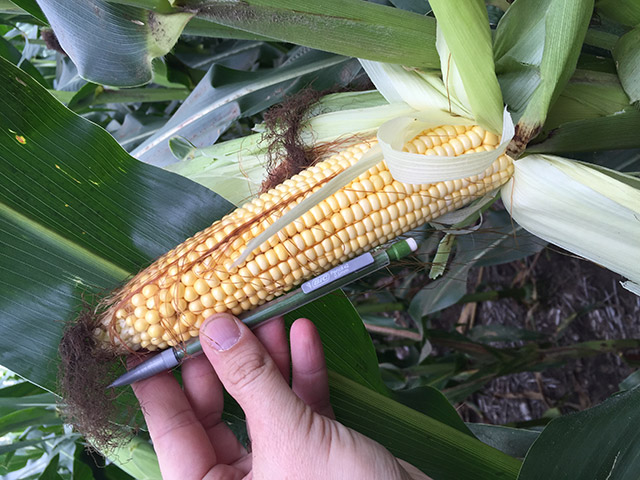 Scouts started into Nebraska Monday afternoon, and after a mixed review in South Dakota, were pleased to see stronger corn measurements. Some of the fields even got people thinking about record yields.
Seeing some nice crops in Nebraska today. Record? #pftour16

— Kurt Line (@kurt5line) August 22, 2016
#pftour16 Nebraska 7 samples in district 3. Average 164.8. 1101.6 soy @brent8320r pic.twitter.com/gDdRTqYeIe

— Pam Smith (@PamSmithDTN) August 22, 2016
But other scouts weren't so sure.
Here is a look at some of our ears near SD/NE border. These fields fall below last year's county yields #pftour16 pic.twitter.com/QpOzR9w0Vp

— Karen Braun (@kannbwx) August 22, 2016
Lots of disease in this flood irrigated Nebraska #corn field. Estimated yield: 95.8 #pftour16 pic.twitter.com/FMUQe3g6L2

— Alison Rice (@agweb_alison) August 22, 2016
#pftour16 #lookedbetterfromtheroad

Probably 15-20% Green-snap above the ear making lots of nubs. Won't do 163 pic.twitter.com/v7kR8v8dMi

— Jarod Creed (@JrodCreed) August 22, 2016
With every ear, context is important.
Side-by-side ears.30% of field (Buffalo Co, NE) had hail, no final N application. ~20% of ears w/ tipback. #pftour16 pic.twitter.com/UQhFnbPnvp

— Pioneer Nebraska (@PioneerNebr) August 22, 2016
And even more important is what's in store for the rest of the season.
Weather still matters here in NE 3. Bit of rain and ideal temps (~80 hi, ~60 lo) for best finish. #corn #pftour16 pic.twitter.com/O48osyBC0B

— Karen Braun (@kannbwx) August 22, 2016
But even as some people are hard at work measuring ears, others would rather be in the cheap seats.
To hell with that #pftour16 there's fish to catch! pic.twitter.com/X9dHcoc4Du

— Dozzzzz (@DozaEric) August 22, 2016
Fires up twitter....sees #pftour16 is going strong. Grabbing the fireball and settling in for the week. Good luck traders.

— FF (@FatF1nger) August 22, 2016
---
Be sure to follow AgWeb's coverage of Farm Journal Media's Pro Farmer Midwest Crop Tour. Watch reports from the field by following Farm Journal Media journalists along for the ride: Alison Rice at @agweb_alison, Ben Potter at @potterben, Chip Flory at @ChipFlory, Brian Grete at @bgrete, and Betsy Jibben at @BetsyJibben. And check AgWeb each evening this week for the day's freshest summary on what they're seeing in the field.
---
Wondering how Crop Tour samples are taken? This video will explain it in less than two minutes.
You can join the tour from home and win big! Just share your own crop photos with the hashtag #pftour16 to be entered to win the Midwest Crop Tour Sweepstakes. Click here to find out more.