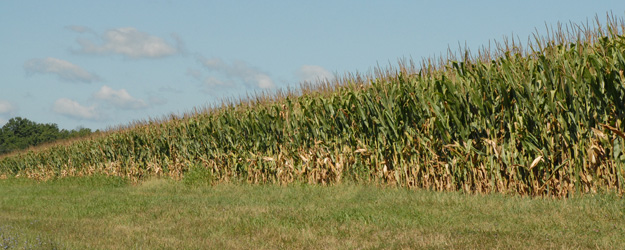 By MARGERY A. BECK, Associated Press

A lower court was right to find that farming brothers were not negligent in a 2007 fatal crash where tall corn created a blind intersection, the Nebraska Supreme Court ruled Friday.
The crash occurred on Oct. 6, 2007, in Saunders County, when two pickups collided at an intersection where the view of the drivers was obstructed by 7-foot-tall corn planted only feet from the roadway. The crash killed one passenger and left another, Thomas Latzel, a quadriplegic who died from his injuries three years later.
Latzel's wife, Amanda, sued the drivers of the two trucks and the farmers who planted the corn. A witness affidavit introduced at trial said the driver carrying Latzel and two other passengers had stopped "for quite a while" at the blind intersection, presumably because he could not see if another vehicle was approaching because of the corn. The witness also said the other driver entered the intersection traveling about 65 mph — well above the speed limit.
That driver settled with Amanda Latzel for an undisclosed sum, while the claim against the driver who stopped at the intersection was dismissed.
But the Saunders County District Court judge also granted a motion to dismiss the lawsuit against the farmers — Ronald and Doug Bartek — saying it was the truck drivers who were negligent for entering an intersection "when (they) could not see what (they) needed to see."
On Friday, the Nebraska Supreme Court upheld the judge's decision, saying that although the Barteks breached a duty of care by planting corn so close to the road, they were "not bound to anticipate that drivers would disregard the obvious danger of traversing a visually obstructed unmarked intersection without being able to see what they needed to see to do so safely."
A concurring opinion written by Supreme Court Justice Kenneth Stephan, and joined by Chief Justice Michael Heavican and Justice William Connolly, went further.
"I conclude as a matter of law that there was no breach, and thus no negligence, on the part of the landowners who were simply making lawful use of their agricultural land to raise crops," Stephan wrote.
Attorneys for the Barteks said the farmers were relieved by the decision.
An attorney for Amanda Latzel, Eric Brown of Lincoln, on Friday cited a state law that requires state and local officials to force landowners to remove visual obstructions — including trees, shrubs and other plants — that obstruct drivers' vision.
"Unfortunately, while citizens who live in towns and cities are made to comply by cutting back their trees and bushes, state and local officials in rural areas of this state simply ignore and refuse to enforce that statute when it comes to farmers," Brown said. "Unfortunately, too many folks are killed in unmarked rural intersection collisions, and we were hoping this lawsuit would lead to a change in practices to save lives."