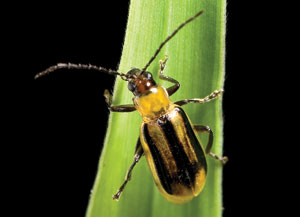 Chris Woerner, a field agronomist for Pioneer Hi-Bred in Nebraska, says that corn rootworm larvae and a few first instar European corn beetle are showing up in fields across the state. In soybeans Woerner says beetle pressure was high early in the season, but now he is seeing some thistle caterpillar in the far southeast corner of Nebraska.
"With the mild winter there could be a higher over winter population and a little higher pressure than we have seen in a couple of years."
Woerner encourages farmers to get out a shovel, dig up some roots and look for feeding damage.
Because larvae are very small they can be hard to see in the roots. "Take a bucket and submerse the root ball in a bucket full of water and watch as the larvae float to the top," he says. "That's the easiest way to see the larvae themselves."