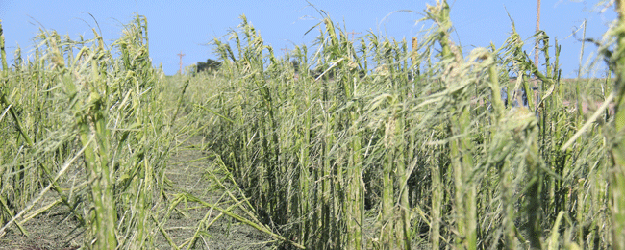 Editor's Note: This is a preview of one of the seven states the 2013 Pro Farmer Midwest Crop Tour will visit on Aug. 18-21. See the complete State-by-State Preview of the Pro Farmer Midwest Crop Tour.
There's no way around it – hail is heartbreaking, and Nebraska farms saw their fair share of it this year. All too many stories like this one were coming out of the Cornhusker State earlier this summer:
"We watched on July 9 as the worst hail storm of our lifetime hit," one central Nebraska farmer shares with AgWeb Crop Comments. "Our local co-ops ran the numbers and came up with a minimum of 40,000,000 bushels of corn lost."
Other Nebraska farmers were more cautiously optimistic.
"Irrigated corn looks good, but I don't think it's the blow-the-top-off record-high yields," says one Adams Co. farmer.
If current USDA projections hold true, Nebraska is on target for a modest yield bump from 2013, however – 173 bu. per acre compared to 170 bu. per acre last year. Local predictions are even more bullish, pegging the crop's yield potential in many locations across the state at well above 200 bu. per acre on irrigated acres.
Nebraska farmers tended to swap corn acres for beans this year – dropping 800,000 corn acres statewide while picking up an additional 590,000 soybean acres. USDA has estimated soybean yields slightly down from 2013 at 52 bu. per acre.
Next, farmers anxiously await to see if Mother Nature will deliver enough GDDs for the remainder of the growing season to finish out the crop. Al Dutcher, state climatologist, writes in the latest edition of UNL CropWatch that some fields may be vulnerable.
"The portion of the Corn Belt most vulnerable to an early freeze appears to be the Dakota's, Minnesota, Wisconsin, and Michigan," he writes. "The greatest hard freeze vulnerability in Nebraska lies along the northern border, as well as in fields replanted late due to devastating storm damage."
Barring the warmest September on record, corn that emerged at the end of May through early June will likely see a hard freeze before physiological maturity, unless producers moved to a variety that needed at least 300 fewer GDD units to reach maturity, he concludes.
For More Information
See full coverage of the 2014 Pro Farmer Midwest Crop Tour, hosted by Pro Farmer.

Follow the tour on Twitter with the hash tag #pftour14.