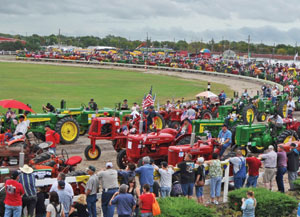 The Guinness World Record for a parade of classic tractors is now 964 tractors and drivers, thanks to a determined group at the Nebraska State Fair. Undeterred by rain, the parade, organized by RFD-TV, was held at the Fonner Park racetrack on Aug. 25 as part of the opening weekend of the fair.
To qualify, each driver provided the tractor's VIN serial number to prove it was at least 30 years old. More than 1,000 tractors and drivers participated. A representative from Guinness certified that 964 classic tractors met all of the requirements and drove continuously for a minimum of two miles.
"Seeing more than 1,000 tractors moving at one time was a real crowd pleaser," says Patrick Gottsch, president of Rural Media Group, Inc. More than 10,000 fairgoers filled the grandstand to watch the parade.
At least 31 states were represented with tractors—730 entries came from Nebraska and the rest from states as far away as Alabama, Arizona, Michigan, New Jersey, North Carolina and Texas.
As storm clouds gathered, it was unanimously decided that the parade would start as scheduled when every driver threw his or her hand into the air and shouted "Today!"
The previous record was 745, held by Elbach, Germany.