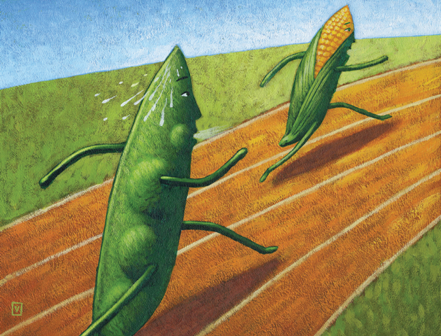 The grain markets shot out of the starting gates this week with limit gains in the corn market, while the soybean and wheat markets were sharply higher. The lack of follow through on Tuesday disappointed the trade and allowed the markets to pull back.
The biggest midweek loser was the soybean market as continued signs of a slowing Chinese economy and cancellations of soybean sales to China weighed on the market. The positive news in Thursday's export data once again were strong soybean meal sales which now stand at 103% of the current USDA estimate for the marketing year. This indicates that the soybean crush will remain strong unless prices surge to protect what little remains of last year's production.
While producers in Illinois were dealing with muddy conditions, those in Iowa, Minnesota and other states were dealing with up to 5-10 inches of snow. This kept the corn market well supported, however it was again disappointing to see a failure to take out Monday's high in July and December corn as the week hit the backstretch.
As the grains turned into the homestretch, technical pressure to corn and wheat lead to lower closes on Friday. The forecast for the following weekend will be watched closely as trade resumes on Sunday night when the next organized rain event is expected. Producers should continue to look at rallies as opportunities to add to hedges or to sell some short dated call options that expire in late June.
U.S. planting progress is barely past the first quarter pole, but will eventually cross the finish line. This may lead to seasonal pressure, however the conditions this spring will only add to the volatility this summer as additional crop concerns are now in play.
With that said, have a great Kentucky Derby weekend and for what it's worth, I look for Normandy Invasion to cross the finish line first on Saturday.
(click to view larger image)