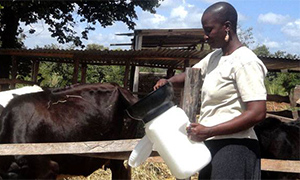 One of the world's largest dairy processors moves to increase agricultural productivity abroad.
Source: Nestlé
Nestlé and Global Good, a collaboration between Bill Gates and Intellectual Ventures, have announced Clinton Global Initiative Commitments to Action as part of a two-year partnership to improve the productivity and lives of smallholder dairy farmers in East Africa.
The two-fold commitments focus on evaluating and devising ways to increase agricultural productivity of smallholder dairy farmers through technology innovation and on expanding the use of a specially designed milk container, known as 'Mazzi', by smallholders to maximize the quality and quantity of milk they sell.
The commitments were announced in New York at the Clinton Global Initiative (CGI) 2014 Annual Meeting. Established by President Bill Clinton, CGI, an initiative of the Clinton Foundation, convenes global leaders to create and implement solutions to the world's most pressing challenges.
According to the World Bank, approximately 75 percent of the world's poor live in rural areas, where the majority of families depend on crops and livestock for their livelihoods. Many smallholder farmers rely especially upon milk as a key source of income and a significant source of calories and nutrients in their families' diet.
"But unlike the efficient processing and supply chains common in many developed countries, when these rural farmers collect and transport their cows' milk from the farm to local collection centers or chilling stations, all too often the milk is spilled or spoiled, at a significant loss for the farmer," said Maurizio Vecchione, Senior Vice President of Global Good and Research at Intellectual Ventures.
Global Good seeks to invent and deploy commercially viable technology that improves lives in developing countries. Mazzi was developed by Global Good, in conjunction with field testing partners in Heifer International's East Africa Dairy Development program, the Bill & Melinda Gates Foundation, the Kenya Dairy Board, and SNV Ethiopia and Ashut Engineers Limited in Kenya.
Expanding Nestlé dairy work
The partnership is Nestlé's first with Global Good and represents a natural extension of Nestlé's long-standing Creating Shared Value (CSV) efforts to take mutually reinforcing actions that both help local communities and economies prosper and support the company's long term objectives.
The partnership is a first important step that could lead to joint Nestlé-Global Good work in other parts of the world.
Nestlé works with over 400,000 dairy farmers globally as part of its commitment to rural development, a key pillar to Nestlé's CSV work. The commitments with Global Good supplement Nestlé's partnership work with the East African Dairy Development Project started in 2011.
"We are very pleased to have this opportunity to work with Global Good. It is another important step in deepening Nestlé's dairy work in East Africa to help smallholders increase milk production and their incomes," said Hans Joehr, Nestlé's Head of Agriculture.
As part of the current commitments, Nestlé and Global Good will undertake field evaluation work to identify deficiencies and bottlenecks in the rural dairy value chain for smallholder farmers.
This field work is expected to take place in Uganda or Kenya, where smallholders account for most of the dairy farming. A decision is expected in coming weeks about where exactly the work will take place.
The field evaluation work is set to start in November and aims to identify areas where technical innovation can be applied to improve the efficiency, quality, health, nutrition and sustainability of smallholder dairy farming.
Mazzi containers
Nestlé's second commitment is to purchase at least 3,000 Mazzi containers to help simplify the milk collection and transport process and reduce milk spoilage and spillage for farmers.
Derived from "maziwa," the Kiswahili word for milk, Mazzi is a durable food-grade plastic container designed with a wide mouth that better enables farmers to milk using both hands. Mazzi's detachable black funnel helps to identify signs of a cow's mastitis (udder infection). Its secure and durable lid prevents spills and allows for easy transportation by hand, bicycle or draft animal from the farm to local collection centers or chilling stations.
Once emptied, Mazzi's fully-accessible and smooth interior surface also makes it much easier to clean, and with much less water than required than the milk collection buckets and repurposed jerry cans so widely used by farmers in sub-Saharan Africa.