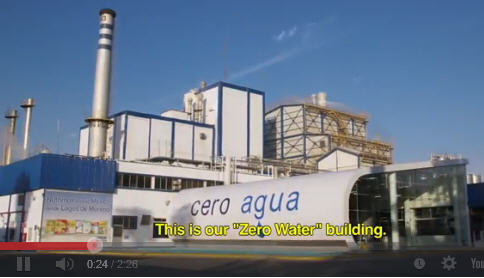 Oct. 22, 2014
The global dairy manufacturer is using 15% less water to make its milk powder products.
Source: Nestlé
Nestlé, one of the world's leading dairy food processors, is using recycled water from its processing plant in Jalisco, Mexico to significantly reduce its groundwater needs.
Through new processes that deliver significant efficiencies, Nestlé's Cero Agua dairy factory in the central, water-stressed state of Jalisco will move toward being a zero-water factory.
Switzerland-based Nestlé considers the plant its most water-efficient factory and plans to replicate the process at its other factories globally.
To produce milk powder products at the plant, Nestlé extracts the liquid from fresh cow's milk, normally at around 88% water. The water byproduct – which used to be discarded – is now treated and used for watering gardens or cleaning.
The water resource savings equal the volume needed per day to fill an Olympic-size swimming pool, or enough water to meet the average daily consumption of 6,400 people in Mexico, Nestlé says. Reusing water from the milk in this way removes the need to extract groundwater for the plant's operations.
The amount of groundwater that the Cero Agua dairy saves each day, around 1.6 million liters, will amount to roughly 15% of the total water used by Nestlé in Mexico each year in its factories, operations and offices.
Over the past 60 years, the amount of water available for each person in Mexico has declined drastically due to population growth. 
Watch the video and read more here.