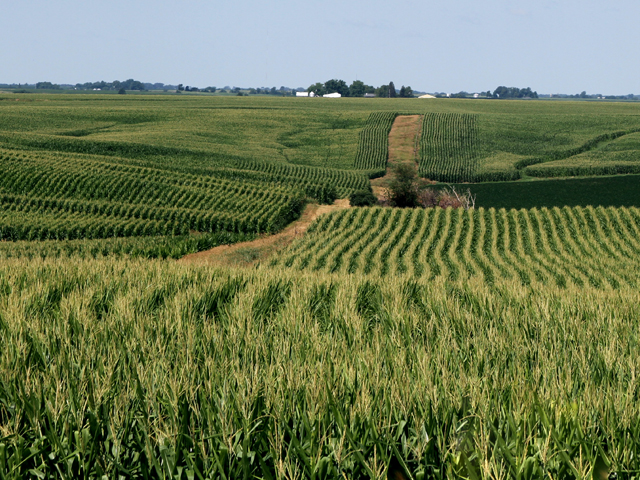 Is Net Farm Income Really Improving?
Producers across the country are walking through one of the toughest economic downturns in recent history. Data from USDA's Economic Research Service suggest the downturn has bottomed out. But has it?
A recent report from the nonprofit Farm Policy Facts disputes USDA's claim net farm income is increasing enough to offset the recent downturn. The reason? Net farm income is often analyzed in nominal dollars, so graphs depict income rising, the group says. But assessments of real dollars—figures adjusted for inflation to compare apples to apples—make it clear income has remained stagnant for several years.
The report, titled "Farm Income Analysis: A mixed bag for U.S. agriculture," notes the value of production and the cost of expenses have increased.
"Increased yields, decreased inputs and technology have all allowed farmers to remain competitive—doing more with less," the report says.
Farm income reached a record high in 2011, which allowed many farmers and ranchers to build equity and cash reserves to manage through the recent downturn. But because income dropped 50% from 2013 to 2016, most of that cushion is used up.
"Farmers and ranchers continue to deal with extremely hard times, thin to negative margins and dwindling reserves and equity that small, projected increases—or increases on paper—may do little to mitigate," the report says. "With the 2018 farm bill fast approaching, we should resolve to stand by these independent farm enterprises."  —Anna-Lisa Laca
---
Power Your Professionalism
Nov. 29–Dec. 1: Executive Women in Agriculture
Build your knowledge of finance, commodity marketing, human resources and more as women in farming and agribusiness gather in Chicago. You'll experience first-class business education, networking and inspiration.
Dec. 11–13: AgTech Expo
Whether you're an early adopter of technology or just getting started with precision ag, join us in Indianapolis to dive deep with Farm Journal experts. You'll discover how to extract maximum value from new tools and data, glean insights from trusted tech firms and hear from exciting startups.
Jan. 23–26, 2018: Top Producer Seminar
Gear up for the New Year and begin a new chapter of your operation with our popular business conference in Chicago. Come prepared for the latest education and networking with the nation's top farm operators. Celebrate the best U.S. farmers during our annual banquet, where we will honor our three finalists and reveal the 2018 Top Producer of the Year.
To register, visit AgWeb.com/events
---
The Ultimate Gift Book
If you are familiar with the character Ron Swanson from the TV series "Parks and Recreation," you already have a fair idea of who Nick Offerman is in real life. An avid woodworker, he combines his sly, dry humor with gorgeous photography, funny stories and actual woodworking advice to subtly introduce or reinvigorate the passion woodworkers celebrate in their craft. You won't be able to not enjoy reading about how this hobby can mend spirits and fulfill our itch to create with our own hands. I recommend hardcover—and a place of pride on your coffee table.  —John Phipps