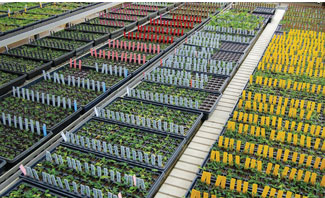 Conventional and GMO breeding improves alfalfa quality and yields
A pair of new low-lignin alfalfa varieties made headlines this fall, signaling an upgrade in what to expect from plant breeders working with the queen of forages in the coming years.

Alforex Seeds, a Dow AgroSciences company, released HiGest 360 and HiGest 660 alfalfa from its conventional selection breeding program after an eight-year selection process with dormancy ratings of three and six, respectively. In November, USDA deregulated Forage Genetics International's (FGI) biotech reduced-lignin trait, allowing HarvXtra alfalfa to 
enter the marketplace.
Reduced-lignin alfalfa boosts forage quality and management flexibility compared to conventional alfalfa. It also offers a wider harvest window. A reduction in lignin improves digest- ibility in the rumen but shows no adverse effects of plant lodging in four years of studies, explains Ron Cornish, Alforex Seeds general manager.  

"The technology is designed to ease the yield-versus-quality trade-off by improving forage quality over a longer period," adds Matt Fanta, FGI president. 

There are two ways producers can take advantage of the new alfalfas. "First, they can maintain their current harvest schedule and obtain improved forage quality compared to commercially available alfalfa harvested at the same growth stage," Fanta says. "Other- wise, they can delay harvest a few days and obtain higher tonnage while maintaining forage quality."

The Consortium for Alfalfa Improve- ment developed the reduced-lignin biotech trait. Monsanto Company partnered in the development, he adds.

HarvXtra alfalfa will be sold in a trait stack with Genuity Roundup Ready alfalfa, offering more management options, says Jon Riley, Monsanto speciality crop manager. 

Cornish says HiGest 360 and HiGest 660 varieties are only the beginning of a growing family of HiGest alfalfa bred to increase yield and quality.

"To develop HiGest, we reviewed all of our germplasm, realizing there is a lot of genetic diversity between yield and lignin, and we wanted high yield and reduced lignin," Cornish says. "We looked at all of our population first for persistence; then, from the best of those, we looked at yield. From there, we took the best-yielding, high-persistence lines and looked for those with low lignin presence. Eight years later, we have all three."

Cornish says there are several patents pending in the HiGest project dealing with the varieties' more dense canopy and increased leaf-to-stem ratio. "We've changed the architecture of the alfalfa plant," he explains.  
---
A Charge to Improve Alfalfa
With a goal of redesigning alfalfa as a major forage source, the Consortium for Alfalfa Improvement has been working to reduce lignin content in stems and petioles. The consortium is also working to develop alfalfas with higher tannin content, a trait that delays ruminant digestion of alfalfa, allowing it to pass on to the ruminant's gut where more nitrogen can be used by the animal rather than expelling it in feces. The Consortium for Alfalfa Improvement is made up of researchers from the Samuel Roberts Noble Foundation, Ardmore, Okla.; Forage Genetics International, Nampa, Idaho; and the U.S. Dairy Forage Research Center, Madison, Wis.