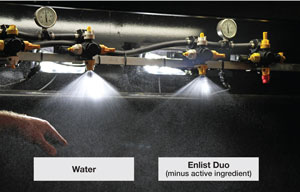 By Sara Schafer and Ben Potter
Farmers close to access of two next-generation GMOs
Genetic seed traits are hardly a dime a dozen. In fact, only a handful have become commercially available since Bt corn hit the market in 1996.

"It takes over a decade to develop new technologies, whether it is biotech or a crop protection product," says 
Damon Palmer, Dow AgroSciences U.S. commercial leader for Enlist. This is why the number of traits is still relatively low, despite GMO market penetration of 90% or more in most of the key crops that have traits available.

Often, the longest part of launching a new product involves regulatory science and registration activities. Such is the case for the Enlist Weed Control System. For more than five years, Dow AgroSciences has been working to develop this trait as well as herbicide technology designed as a new method to deliver broad-spectrum, over-the-top weed control.
"Enlist will be developed in soybeans, corn and cotton," Palmer says. "The weeds we are targeting with Enlist are those hard-to-control broadleafs and resistance broadleafs. We are really trying to look at this from a diverse management perspective and develop long-term solutions." 

Enlist Duo is a proprietary blend of 2,4-D choline and glyphosate. By combining two modes of action, Dow AgroSciences says the herbicide will control and help prevent further development of herbicide-resistant weeds. 

Before the products are available to farmers, USDA must approve the traits and the Environmental Protection Agency (EPA) must bless the herbicide components.

In September, one of those milestones was reached, when USDA's Animal and Plant Health Inspection Service (APHIS) deregulated Dow AgroSciences' Enlist corn, soybean and E3 soybean traits. Enlist E3 soybeans, which feature three herbicide-tolerant genes stacked together, are being developed by Dow AgroSciences in collaboration with MS Technologies.

In October, EPA approved the use of  Enlist Duo in Illinois, Indiana, Iowa, Ohio, South Dakota and Wisconsin, with 10 more states pending registration. 
Monsanto Company officials plan to launch Roundup Ready 2 Xtend soybeans in 2016. This new trait and herbicide system will contain the Genuity Roundup Ready 2 Yield trait technology stacked with a trait tolerant to dicamba as well as glyphosate herbicides. The herbicides will be paired in a premix of dicamba and glyphosate, Roundup Xtend herbicide.

A related technology for cotton, called Bollgard II XtendFlex (tolerant to dicamba, glyphosate and glufosinate herbicides), is moving concurrently through the regulatory process. USDA–APHIS has indicated it prefers to deregulate both crops simultaneously.

In August, USDA announced it had completed the draft Environmental Impact Statement and had begun its comment period, which is ongoing as of press time. (To comment, visit http://www. RoundupReadyPLUS.com/support dicamba.) Monsanto officials expect USDA to deregulate the traits by the end of this year.

"These are important steps in the regulatory process," says Michelle Vigna, Monsanto launch manager for the Roundup Ready Xtend Crop System. "We are encouraging farmers to urge regulators to complete this 
action as soon as possible to ensure U.S. soybean and cotton farmers can gain access to these new technologies."

Access to these new traits will keep U.S. agriculture productive, sustainable and globally competitive, Vigna adds.