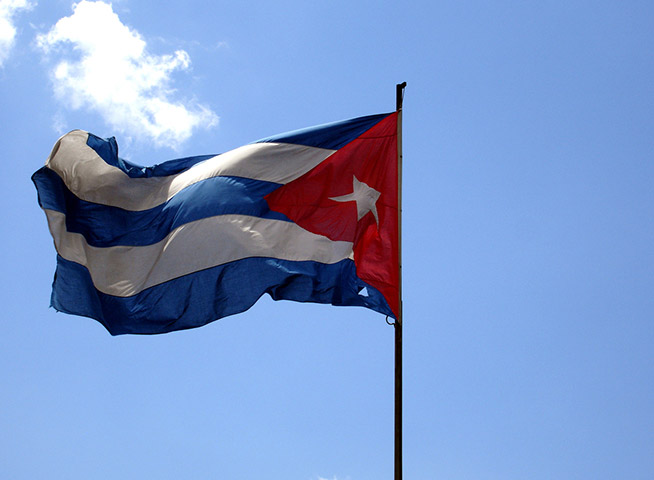 President Donald Trump announced new restrictions Friday limiting U.S. citizens' ability to travel to and do business in Cuba, moving to roll back a historic rapprochement led by the Obama administration that he frequently targeted on the campaign trail.
The changes Trump announced include a ban on Americans doing business with the military and intelligence-affiliated companies that control large swaths of the Cuban economy. He unveiled the new policy during a speech in Miami, where the fervently anti-Castro expatriate community helped elevate Trump to an electoral victory in the crucial battleground state.
"I am canceling the last administration's completely one-sided deal with Cuba," Trump told a cheering crowd that included veterans of the failed U.S.-backed Bay of Pigs invasion of the island in 1961.
Trump painted his moves as a fulfillment of his campaign promise to reverse the thaw under the Obama administration, saying Cuba had failed to make progress improving human rights.
His predecessor's efforts to end the decades-old U.S. isolation of Cuba "does not help the Cuban people; they only enrich the Cuban regime," he said.
The action stirred a rare rebuke of the Republican president from the U.S. Chamber of Commerce, which has otherwise backed much of Trump's agenda.
"Unfortunately, today's moves actually limit the possibility for positive change on the island and risk ceding growth opportunities to other countries that, frankly, may not share America's interest in a free and democratic Cuba that respects human rights," Myron Brilliant, the chamber's executive vice president and head of international affairs, said in a statement emailed to reporters.
Cuba Critics
Trump was joined on the trip by vocal critics of President Barack Obama's attempt to resume more normal relations with the communist nation. Senator Marco Rubio, the Cuban-American Republican who represents Florida, traveled on Air Force One to the event with Trump, alongside Representative Mario Diaz-Balart, a Florida Republican who is the son of Cuban refugees. Trump tweeted a picture of the two lawmakers working to develop the new Cuba policy, part of what the White House said was extensive consultations with Capitol Hill.
Still, the president's moves are not designed to massively disrupt existing commercial ties that have grown between the U.S. and Cuba since the Obama administration moved to restore diplomatic ties in late 2014. After his remarks, Trump signed an order directing the Treasury Department to make the changes.
The new rules restricting financial dealings with Cuban companies with links to the country's military and intelligence services could stall future American development on the island. Grupo de Administracion Empresarial SA, known as GAESA, a state-run, military-affiliated conglomerate, owns almost all of the retail chains in Cuba and 57 of the mainly foreign-run hotels on the island. As part of Trump's move, the U.S. State Department will create a list of Cuban entities with military ties so U.S. travelers know the establishments they are now expected to avoid.
Ports exempted
Airports and ports are exempted from the ban, meaning cruise ships and airplanes can continue to operate their routes to Cuba. Even so, demand for flights and cruises could be depressed as the new limits complicate travel to Cuba.
Still, cruise operators applauded the decision to exempt ports from the new restrictions. Carnival Corp. said in a statement it was "pleased" the changes will allow its ships to continue to sail to Cuba.
"We will review the extent of the tightening of the travel rules, but our guests have already been traveling under the 12 approved forms of travel" since the cruise line's first trip there more than a year ago, the company said in a statement.
Trump will also exempt banking transactions and fees, allowing Americans to continue to rent private properties such as those offered through AirBnB.
Rum and Cigars
There's also no change to the policy allowing U.S. travelers to bring home an unlimited amount of Cuban rum and cigars for personal consumption. The policy also won't limit remittances to Cuba by Cuban Americans, and expanded telecommunications and internet access programs will also be allowed to continue.
Moreover, none of the changes will go into immediate effect. Trump's order simply instructs his administration to begin drafting new rules within 30 days, with no set timeline for completion.
The Treasury Department said in a fact sheet it expected to unveil the new regulations "in the coming months." Travelers who have purchased tickets or made hotel reservations ahead of the president's announcement on Friday will be allowed to proceed with their trips. Commercial engagements completed ahead of the issuance of the new regulations will be allowed to proceed.
That could provide a reprieve for construction projects already under development in conjunction with GAESA, like Sheraton's Four Points hotel in Havana.
Stricter Enforcement
Trump also plans stricter enforcement of rules mandating that trips to the island fall within one of 12 categories for legal travel to Cuba, including family visits and educational activities, the official said. 
The Obama administration relaxed requirements that educational groups travel with a guide from a U.S. organization sponsoring the trip. But the official described individually planned trips to the island as ripe for abuse of the still-existing prohibition on tourism, and said Americans seeking so-called "people-to-people" cultural exchanges would again need to book their travel through groups sanctioned by the Treasury Department's Office of Foreign Assets Control.
The changes are "modest" Pedro Freyre, chairman of law firm Akerman LLP's international practice and an adjunct professor at Columbia Law School, said in a phone interview.
"It tacitly accepts that the framework of the relationship with Cuba will be with diplomatic relations, with engagement, with conversations," he said.
--With assistance from Jonathan Levin
To contact the reporters on this story: Justin Sink in Washington at [email protected], Jennifer Jacobs in Miami at [email protected]
To contact the editors responsible for this story: Alex Wayne at [email protected], Mike Dorning, Michael Shepard
©2017 Bloomberg L.P.