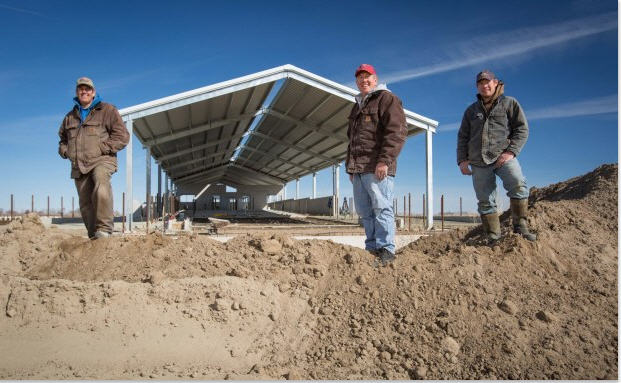 Oct. 17, 2014
Nevada dairy producers now have security, say the Perazzo brothers.
When Dairy Farmers of America (DFA) decided two years ago to build its new milk powder plant in Fallon, Nev., life – and the future -- changed for brothers Alan and David Perazzo of Perazzo Brothers Dairy.
Click here to read the story and watch the video of what the new plant has meant to the Perazzos' third-generation dairy in Fallon. The Perazzos completed construction this summer of a double-30 parallel parlor. They plan to increase their herd size to 1,500 cows by year's end. Perazzo Brothers Dairy is one of 16 northern Nevada dairies supplying milk to the new plant.
The story appears in the Summer 2014 issue of DFA Leader.
DFA highlighted the Perazzo video Thursday at a board meeting of the U.S. Dairy Export Council in Chicago.  During the meeting, DFA was honored with the Tom Camerlo Exporter of the Year award, presented by Jim Carper, editor of Dairy Foods.
DFA received the award in part for its investment in the Fallon, Nev., plant to supply global markets and for its goal of expanding overseas sales of long-life milk. DFA celebrated the plant's official grand opening last month.
The national dairy cooperative has increased its overseas shipments, seeing 43% growth in export sales from 2012 to 2013. DFA supplies export customers with products such as whole and skim milk powder, whey, cheese and butter. Read more here.