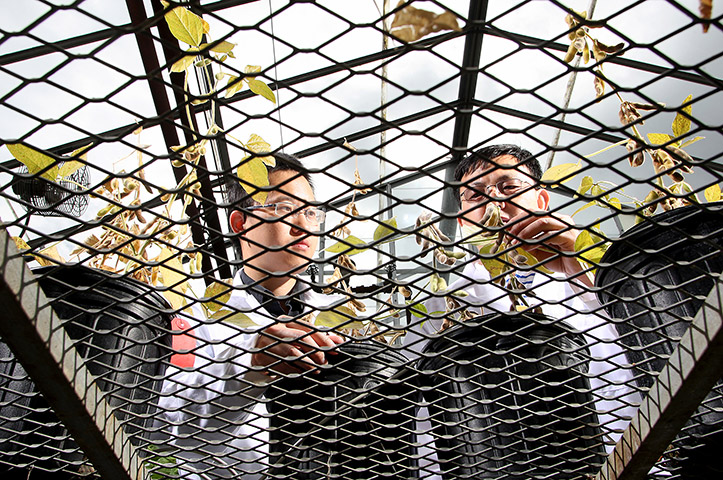 A joint research project from Purdue University and the University of Nebraska-Lincoln may have just led to the next elite soybean cultivars for the Northern U.S.
The researchers' discovery involves a soybean gene whose mutation affects plant stem growth. The gene, Dt2, causes semi-determinacy in soybean plants. This is significant because semi-determinate plants are midsized plants that can continue vegetative growth even after flowering. That means they can produce as many or more pods than current northern cultivars but resist lodging issues because they don't grow as tall.
"This gene could help us improve the yield potential and adaptability of soybeans for specific growing areas," says Purdue agronomy professor Jianxin Ma. "We can now focus on developing a variety of elite semi-determinate soybean cultivars, which could perform very well in high-yielding, irrigated environments such as Nebraska and northeastern Indiana."
Currently, soybean farmers usually opt between two types of soybeans – indeterminate and determinate. Indeterminate varieties produce tall plants whose main stem continues to grow even after flowering. Determinate plants, meantime, produce shorter, more bushy plants whose main stem stops growing once blossoms begin to form.
For northern soybean farmers, a semi-determinate variety could pull in the best characteristics of both soybean types, Ma says. These varieties would be easy to manage, yield as good or better than indeterminate plants and better handle a shorter growing season, he says.
Currently, NE3001 is the only common semi-determinate cultivar in the U.S. This discovery will enable Ma and other collaborators to use natural plant breeding methods to add to that cache.
"The potential for soybean yield productivity in the U.S. has not been fully explored," Ma says. "[This is] in part because of the lack of semi-determinate cultivars. We're now working on converting high-yielding indeterminate cultivars to semi-determinate types to test their yield potential."
The study's co-author, James Specht – a professor of agronomy and horticulture at UNL – says Dt2 represents a powerful new tool for soybean breeders.
"This provides breeders with a perfect genetic marker for identifying semi-determinacy in soybean seeds and seedlings," he says.
The research findings were recently published in The Plant Cell, a premier biology journal.