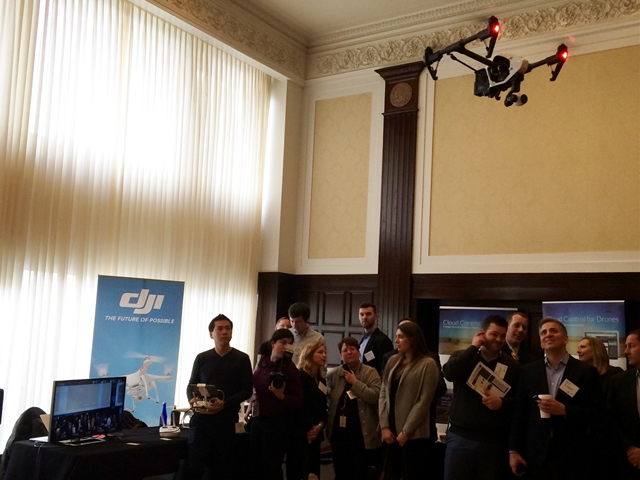 Coalition says American agriculture is missing out on opportunities that unmanned aerial vehicles offer.
Agricultural drones may be a hot topic of discussion among agronomists, but drone advocates say it's long past time for regulators to update the rules for unmanned aerial vehicles (UAV) in the United States.
"This train has left the station," said Rep. Earl Blumenauer (D-Oregon) said of drone technology at a Tuesday press conference and drone demonstration organized by the Small UAV Coalition in Washington, D.C. "The question is how long it will take to adapt the system so we can fully take advantage of it."
Farmers, drone manufacturers, and other precision agriculture firms are wondering the same thing. While the Federal Aviation Administration has begun approving commercial drone permits, the number remains extremely limited.
"The total number of exemptions that the FAA has approved is 14, which is less than the number of businesses operating drones on the island of Malta," noted Lucas Van Oostrum, the chief technology officer of Aerialtronics, which is based in The Netherlands.
See drones from DJI and Parrot in flight here at the event.
He, and others, asserted that the U.S. government's regulatory reluctance on drones is holding the U.S. back in numerous ways.
"Look at crop dusting," said Jesse Kelman, head of business development at Airware, which handles hardware, software, and cloud services for commercial drone operations. "This is one of the most dangerous jobs in America. Japan is already using autonomous helicopters to spray a majority of their fields."  
In Holland, farmers have been able to use agricultural drones to boost yields by 50 percent while conserving water and fertilizer, according to Van Oostrum.  He also noted the economic impact that the drone industry could have, with the possibility of generating an estimated 100,000 skilled jobs in the U.S. over 10 years.
"Drones are big business," Van Oostrum said.
It makes drone manufacturers—and users--hungry for new rules that will let them truly put drones to work. "We are behind the curve in figuring out what the rules are," said Dr. David Vos, project lead for Google's Project Wing.
After all, they can see the possibilities right in front of them, thanks to commercial drones that can carry high definition cameras, shoot video, record thermal imagery, and more for quick information and in-depth analysis.
It represents a big change for many, including farmers, crop insurance agents, and others in agriculture. "The state of the art used to be to stand up on a step stool and estimate how much the corn crop is damaged," reminded Dr. Philip Ferguson, vice president of product development at PrecisionHawk, which is based in North Carolina.
But the high-tech industry could be close to taking off. Michael Drobac, who serves as executive director of the Small UAV Coalition, thinks 2015 may be the year when the FAA finally updates its rules on drones. "Once technology reaches a certain point, it's very hard to turn back," said Drobac.
Do you think it's time to let the drone industry take flight in the U.S.? Let us know on the AgWeb discussion boards.