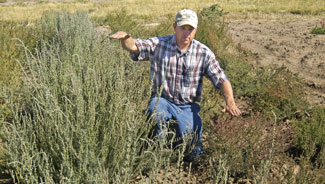 Snowstorm variety can improve cattle condition and reduce winter feed costs by 25%
For more than 20 years, graziers in the Intermountain region of the western U.S. have interseeded forage kochia with crested wheatgrass to boost the productivity and sustainability of their rangeland cattle operations. Now, they're looking at up to double the production from a new perennial kochia variety. Called Snowstorm, it grows taller and more vigorously than the traditional cultivar, Immigrant.

Forage kochia is a native of central Eurasia and provides an important winter forage source on highly alkaline soils in the high desert where rainfall ranges from 6" to 12" per year. 

"Research has shown the plant can boost the carrying capacity of rangeland up to six-fold, improve cattle body condition during winter grazing and reduce winter feed costs by 25%," says Blair Waldron, research geneticist with USDA-Agricultural Research Service's (ARS) Forage and Range Research Laboratory in Logan, Utah.

In 2012, the USDA-ARS lab released Snowstorm, a forage kochia variety that grows about 40% taller than 
Immigrant to provide standing forage that extends above the snow. Research in eight western U.S. locations during a three-year period shows Snowstorm yields nearly double that of Immigrant.
The new kochia variety provides 7% to 12% more protein for cattle from September through November. The crop also has higher digestibility. "We're excited because anytime you increase the digestibility in a forage by a percentage point, research on grass has shown you can boost average daily gains by 3%," Waldron adds.

Snowstorm could offer benefits to graziers in the western High Plains along the eastern slopes of the Rocky Mountains. "We planted it in New Mexico this year and are just now getting data back," he says. 

With seeds nearly 70% larger than Immigrant, Snowstorm should be broadcast with a forage grass, such as crested wheatgrass, at 2 lb. to 4 lb. per acre on land that has been burned or disturbed by a disk. 

Rich Wilburn, who ranches near Burns, Ore., plans to  seed up to 5,000 acres of forage kochia this year. "On many of our acres that burned this year, the kochia is up 4" and nothing else has come back yet," he says.

Wilburn has been using kochia on his rangeland for a dozen years. He runs a disk and a flail spreader right after the snow melts to broadcast the seed onto disturbed or burned ground.

"If the ground is fertile, the kochia will emerge quickly. If not, it may take three to five years," he says. "We spread some by helicopter where we'd fed cows. It took two to three years, but after that, it came on fantastic."
The cattle take to the forage well. "We put cows on bunchgrass in November, and when we drive through the herd, they'd eat our pickup," Wilburn laughs. "Put them on kochia and they won't even look up!"

On the north shore of the Great Salt Lake, Bob Adams has grown kochia since the late 1980s and has watched it thrive, even on alkali slick spots, in an area that receives 6" to 8" of rain a year. He's been growing Snowstorm seed for the past two years to sell.

"I was concerned at first about the cows eating it because of its larger stems. But they ate it right to the ground unlike Immigrant," he says. "Cows need grass to go with it, but grass and kochia complement one another. The kochia doesn't really start growing until the wheatgrass begins to falter, so it extends the grazing season."