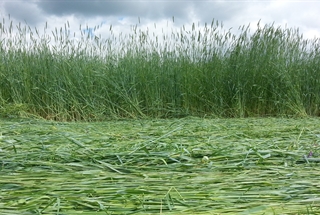 Researchers are testing the use of cover crops such as grasses and legumes on a one-acre hayfield in Dover, New Hampshire, to help farmers improve soil health.
University of New Hampshire scientists have teamed up with the Strafford County Conservation District to try out different combinations of the crops. The aim is to test all of the combinations of hayfield management and seeding - 64 plots total - to determine which approaches work best for soil health and hayfield productivity.
Such crops also are used to reduce erosion and control pests.
The team says the project is part of a larger effort to develop more sustainable agricultural systems and support climate-smart agriculture — not using tillage or chemical fertilizers.
The project is funded by the New Hampshire Agricultural Experiment Station at the University of New Hampshire College of Life Sciences and Agriculture.
"The district is committed to helping local farms improve their soil health," said Vicky Stafford of the Strafford County Conservation District. "Improvements in soil health can help the farms increase their productivity while reducing the sediment and nutrient runoff into the surrounding waterways."
Two of the district's pieces of farm equipment, a no-till seeder and a soil aerator, are being used in the research project. "We are very excited to demonstrate the effects of these pieces. The district is also very interested in providing information to farmers about the use of cover crops and the treatments surrounding the seeding, and ways to make cover cropping as effective as possible," Stafford said.