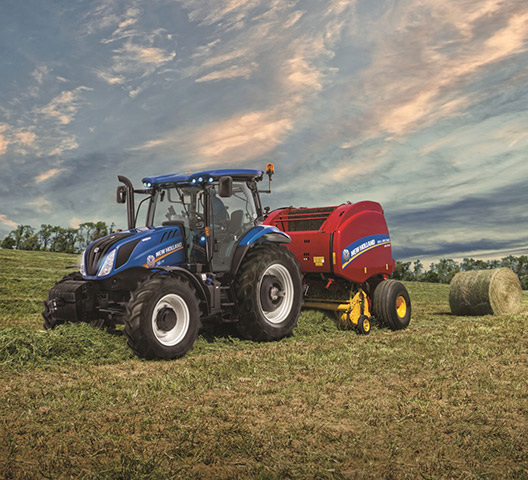 This year, New Holland observes its 120th anniversary. The company is celebrating in part by rolling out improvements that include new machinery, new in-cab features and new precision options.
For starters, new Tier 4B emissions-compliant engines provide fuel efficiency and more torque for better performance with solutions tailored to the specific requirements of each size tractor. These engines are a key upgrade in new equipment offerings, such as New Holland's new T6 all-purpose premium tractor series.
The new 4-cylinder engine achieves better performance by maximizing power output from each cylinder. The new engine control unit brings the engine to maximum torque faster, and it holds through the lower rpm longer. Engine power management delivers extra HP when under load, and engine speed management ensures speed is maintained under changing loads for applications that require constant PTO speed for fixed forward speed in difficult terrain.
The T6 also features a 52.2-gallon fuel tank that can be augmented with a second auxiliary modular fuel tank for a total fuel capacity of 58.6 gallons – enough for a 12-hour day or more.
"It's a value tractor, but it has a lot to offer," says Alex Booms, marketing specialist. "Overall, it's a great, versatile tractor."
Aside from the T6 Series all-purpose premium series, New Holland showcased:
TS6 Series tractors (90 to 115 PTO horsepower) are new inside and out with new styling, a new VisionView cab, and new 4-cylinder, Fiat Powertrain Technologies (FPT) common rail engines that meet Tier 4B emissions standards and deliver power and performance.
T4 Series tractors (86 to 117 engine horsepower) are equipped for performance and efficiency in a utility tractor. These tractors are now powered by clean-burning Tier 4B engines that not only improve fuel efficiency, but also generate greater torque and power for tough jobs. Features include the deluxe VisionView cab, the ergonomic CommandArc console and Dual Command transmission.
Workmaster 50, 60 and 70 utility tractors (53 - 70 gross horsepower) have a new look and new Tier 4B FPT common rail engines, with features not found in all value tractors.
Boomer 46D and Boomer 54D compact tractors (46 – 54 gross engine horsepower) offer the convenience of a continuously variable transmission, the comfort of the deluxe SuperSuite cab, and the increased torque of new, clean-running Tier 4B emissions-compliant engines. Clean-running Tier 4 engines provide more torque for increased performance, and New Holland boasts the industry-leading EasyDrive CVT transmission drives like a car.
While New Holland upgraded its cabs across all models, from the top-of-the-line Harvest Suite Ultra Cab on down.
"In a lot of ways a lot of features are like what you'd find in a pickup truck," Booms says. "We've put a lot of thought into cab design."
Notable features include 131 cu. Ft. of space, 68 sq. ft. of glassed area, heated and cooled seats, cruise control and a mini-fridge under one of the seats.
Another inside-the-cab upgrade includes big changes to Precision Land Management, the company's precision/telematics tool.
"We've been able to collect a lot of machine and agronomic data, but most of it has never been used," says Chris Carrier, manager of precision technologies.
Customers can monitor their equipment remotely, monitoring performance and setting alerts. Track any number of data, from cultivation to seeding and fertilization all the way to harvest.
Carrier says the era of making big data usable and profitable for farmers is going to continue to accelerate over the coming decade.
"Predictive analytics is really going to take our profession to the next level, and we're just starting that era," he says.
The National Farm Machinery Show runs Feb. 11-14. Visit http://www.agweb.com/national-farm-machinery-show/ for continuing coverage on AgWeb, or follow along in real-time on Twitter by following hashtag #NFMS15.