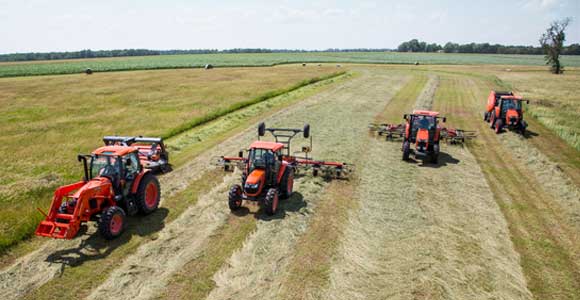 Kubota Tractor Corporation has announced the availability of its second phase of all-new Kubota Hay Tools in dealerships nationwide. The recently expanded hay tools line brings to market new round balers and turntable bale wrappers; side-mounted and trailed disc mowers; trailed mower conditioners; and a complete range of rotary tedders and rakes.

The new machinery is designed specifically for the U.S. market to further expand Kubota's presence in the larger agricultural product market. "With our extended line of hay tools, we are building on the success of our well-received initial hay tools launch last year and responding to outstanding dealer and customer demand for more high-performing implements from Kubota," said Dave Palmer, senior product manager of Kubota hay tools. "Kubota understands that our customers depend on our equipment's productivity and by providing the right tools, we always deliver. Kubota's hay tools are performance-matched to ideally complement our M-Series tractors and deliver a more comprehensive line of haying solutions for our customers' needs."
Long-Standing Hay Tools Heritage
Kubota completed a full-ownership acquisition of Kverneland Group in 2013, which helped make the first phase of Kubota hay implements available last year, including five disc mowers, ranging from 5'6" to 10'6", and a rotary rake and tedder, with working widths of 13'9" and 17'1", respectively.
"Our hay tools division was originally founded in 1879 and has greatly contributed to the agricultural industry with an impressive number of product innovations and concepts. This second round of well-engineered hay tools brings us closer to realizing our goals to deliver full-service equipment to our customers," added Palmer.
A Closer Look: Round Balers and Wrappers
The all new Kubota Round Baler Series offers four models – the BV4160 Econo, BV4160 Premium, the BV4180 Premium, and the BV5160. For a classic, can-do model, the BV4160 Econo features efficient twine baling with a 4-feet wide and 5-feet tall bale size, and four bar 67-inch pickup. For the next level up in versatility, the BV4160 Premium provides a 79-inch pickup.
For larger bale production, the BV4180 Premium delivers 4-feet wide and 6-feet tall bales, plus all the features of the BV4160 Premium model. Rounding out the new line is the BV5160, Kubota's most feature-laden baler with a drop floor for easy clearance of blockages, a 14-knife chopping system, 4-feet wide and 5-feet tall bale size and five bar 86-inch pickup.
The BV4160 and BV4180 Premium models and BV5160 come with Kubota's own patented PowerBind Net Wrap system, which is one of the fastest net-wrapping solutions available today with superb in-field performance for great-looking bales with more value, time after time.
Kubota Bale Wrappers, models WR1100 and WR1400, offer a three-point mounted turntable and trailed turntable wrapper for superb bale quality at a maximum bale size of 2,650 pounds. The WR1100 is ideal for wrap and stack operations, and the WR1400 model is a pull-type wrapper designed for smaller tractors with a trailed turntable wrapper to ensure consistent bale rotation even in the most difficult conditions. Both wrappers are easy to operate and have fully-automatic control functions from the leading tractor, enabling one operator to manage the whole process of loading, wrapping and stacking.
New Disc Mower Conditioners and Added Disc Mowers
Kubota adds to its disc mower line, the DMC8000- and DMC8500-Series trailed mower conditioners ranging from 9'2" to 13'1" with left hand or center pivot drawbar options. Kubota's own patented, fully-welded and full-width conditioners set Kubota apart from the competition and are designed for ensuring a high level of durability, low maintenance and quiet operation. With three counter-rotating blades per disc, Kubota mowers are constantly cutting, which allows for one-third less load per blade, an even load on the drive, and smoother power use to produce a neat, clean cut each and every time. With improved overlap even in wet conditions, the counter-rotating cutting discs make sure there are no stripes of uncut forage left in the field.
The DMC8000- and DMC8500-Series are each equipped with gentle roller conditioners for handling fragile crop. They also offer semi-swing conditioning capabilities using centrifugal force for aggressive conditioning with no movement during rotation. This allows for excellent tine protection and virtually no wear and tear on the implement.
Each model offers independent active suspension where the complete mowing section, including the conditioner, is suspended independently from the main chassis, allowing uneven field conditions, including tracks and contours, to be closely followed. A simple crank adjusts the whole cutterbar assembly up or down to desired cutting height and can adapt to changing ground conditions 19.7" up and 5.9" down.
Additionally, the Kubota disc mower line now includes two new pull-type disc mower models with the introduction of the DM5000 Series. The DM5032 and DM5040 are new side-mounted disc mowers with a working width ranging from 10'6' to 13'1". The DM5000 models are easy to operate and have low horsepower requirements, making them more versatile for use with smaller tractors, while reducing fuel consumption. The DM1000, DM2000 and DM5000-Series offer three counter-rotating blades per disc and the benefits of independent suspension to adapt to field contours and conditions.
New Rotary Rakes and Tedders
The Kubota line of rakes, the RA1000- and RA2000-Series, offers Proline, Farmline, compact, side- and center-delivery for multiple raking options. All Kubota models have high-capacity curved tine arms for cleaner raking performance and optimized swath formation. The Kubota patented TerraLink system adapts in three dimensions, pivoting the full undercarriage and giving flexibility to the rotors for exceptional ground following and stability on slopes. The RA2071T EVO offers unique 360-degree pivoting tandems that are designed to work in a variety of hay field conditions.
The Kubota FarmLine and ProLine tedders offer exceptional versatility with working widths ranging from 17'1" to a massive width of 36'1". The five TE-Series models all offer Super C-tine design that leaves airy and evenly spread hay to help speed up the drying process and produce high-quality forage even in challenging weather conditions. Each tedder connects easily to the tractor's drawbar hitch and with a heavy-duty mainframe design, maintenance needs are minimized.
For more product information, please visit the Kubota Hay Tools new product pages on www.kubota.com.

Source: Kubota Tractor Corporation