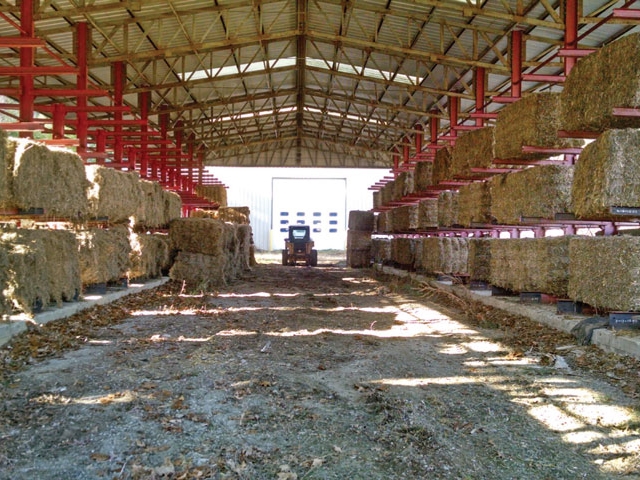 Residue technology is opening new revenue streams for farmers
The secret has been hiding in plain sight, waiting to be plucked from the pile. As a farm boy in Vermont, one of Eben Bayer's chores was shoveling wood chips into a maple syrup gasifier. The chips were often clumped by white strands of mycelium—mushroom roots. Years later, when Bayer was challenged by a college professor to find an alternative to standard insulation materials, he reached for the natural resin of his childhood.

Partnering with Gavin McIntyre, Bayer mixed cornstalks and leaves with mycelium. The result? A living conglomerate capable of casting to any shape—a poor man's alchemy with tremendous implications for sustainability and cast-off agriculture residue. A mechanical engineering student tinkering with biology is typically fodder for skeptics, but once Bayer and McIntyre settled on the right recipe, the viability of the product—Myco Foam—was undeniable. Myco Foam became the basis for Ecovative, a packaging-material business resting squarely on the potential of mushrooms and crop residue.

Agriculture residue continues to gain attention as a means of supplemental farm income as technology forges new paths for crop trash use. Particularly in a dismal market, farmers are looking for new ways to boost income. Ecovative and many other companies are creating new revenue streams and painting crop residue with a fresh shade of financial green.

Located in Green Island, N.Y., Ecovative sources ag residue from local farmers and haybrokers. Raw residue is essentially cooked to clean out debris and reduce particle size. After cleaning, mushroom roots are added and the mycelium bond with ag residue nutrients. After only a few days of growth, the material is ground and filled into molds for packaging replacements. When the mushroom material begins to grow again, it's removed from the molds and dried. "The drying process removes all the water and kills the mycelium. If we didn't use the drying process, the mycelium would keep growing," says Melissa Jacobsen, Ecovative's director of communications. 

Although the finished product looks and feels similar to Styrofoam, it's compostable and biodegradable. Ecovative hopes to expand beyond packaging and engineered wood, into paneling for the furniture and architecture industries. The company is testing weatherproof coatings and exploring insulation, acoustic panels, automotive foam parts and marine buoys. 

In 2014, David Benjamin, cofounder of The Living, an architectural firm, used crop residue in the construction of his renowned Hy-Fi tower at the MoMA PS1 museum near New York City. The 40' tall Hy-Fi tower was composed of 10,000 bricks produced by Ecovative. The organically textured bricks, made from cornstalks and mycelium, were 18" long, 7" wide and 4" tall. Each weighed less than 2 lb. 
Opportunities for wheat straw continue to expand. Columbia Pulp of Dayton, Wash.,  is set for full operation in 2017 and will chew through 220,000 tons of wheat straw per year, according to John Begley, president of Columbia Pulp. The company works with alfalfa, barley, corn and several other straws, but the bulk of finished pulp is derived from wheat straw. "We'll make unbleached market pulp for use by other manufacturers in producing a variety of paper grades, including molded fiber products, towels, tissues and packaging materials," Begley says.
Even smaller crop waste products are finding new opportunity. Chad Ulven, associate professor of mechanical engineering at North Dakota State University (NDSU), used his knowledge of agriculture residue to start c2renew, a company creating biocomposite material compounds from ag waste and plastic. Through a blend of biomass and plastic, c2renew makes a variety of parts and products from flax fiber, flax shive, corn cobs, hemp hurd, hemp fiber, sunflower hulls, dried distillers' grains, soybean hulls, oat hulls and sugar beet pulp. Ulven uses a wide residue stream to avoid the pitfalls of supply and demand related to a single biomass source.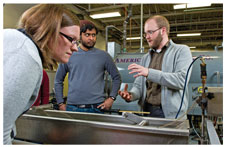 Raw materials, such as straw bales, are     cooked to clean out debris and reduce    particle size and then inoculated with    mycelium to make Ecovative's Myco  Foam.
Ag residue fillers reduce the cost of polymers by using low-cost biomass instead of expensive base resins. The residue is refined by c2renew to ensure proper consistency and particle size, and remove contaminants. Ulven developed the proprietary blending technology over six years of research and c2renew spun out of his work. 

c2renew makes whole products and drop-in parts for a host of engineering applications, including agriculture machinery and automobiles. Ulven's company also makes consumer products from coffee- or beer-based filaments, mugs made from coffee, and biodegradable crop sensors. 

Hemp might be the ultimate industrial production crop but remains out of reach for most U.S. farmers. However, American Hemp, based in Winston-Salem, N.C., is putting the machinery together to process hemp stalks, once hemp becomes available at scale from U.S. growers. Presently, American Hemp supplies manufacturers with foreign-grown hemp, but the pipeline is set for change. 

"Once acreage opens for hemp, we'll buy from American farmers and fill the gap between producer and manufacturer," says Patrique Veille, CEO, American Hemp. 

From fiber to seed to oil, hemp is incredibly versatile and used in more than 25,000 commercial products.
The standards of Styrofoam and plastic won't be displaced by crop residue, but even slight disruptions can shift the financial landscape. Crop trash isn't treasure, but supplemental income opportunities are widening in tandem with technological advancements, and no farmer wants to leave profit scattered in the field.