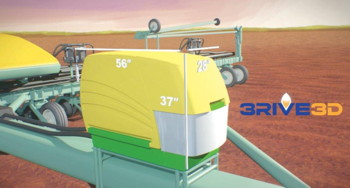 3RIVE 3D, from FMC, is a new at-plant crop protection delivery platform combining formulation and application technology to boost acreage planted in a day.
Reducing the volume of water needed to deliver crop protection products to the furrow -- 3RIVE 3D uses 40 ounces of solution per acre.
3RIVE 3D mixes the precise amount of product with a low amount of water and expands the mixture up to 50 times into a Zone of Protection directly into the furrow. The applicator includes a 130-gallon water tank and a 30-gallon product tank, skid-mounted for installation on all major planter brands.
"It creates an entirely new way to deliver crop protection products for seedling defense and yield enhancement," says Aaron Locker, marketing director for FMC.
This technology allows farmers to cover more acres in less time while saving inputs. "Growers can plant up to 500 acres between refills," says Matt Hancock, FMC North American corn segment manager.
Capture 3RIVE 3D is the first product formulated to use with the delivery platform. By dealing with handling, convenience, water usage and weight, Capture 3RIVE 3D offers opportunity to growers. Capture 3RIVE 3D controls corn rootworm as well as seed and seedling pests.
Capture 3RIVE 3D was tested in 27 research trials across eight states in 2014 and will be used on 100 farms in 2015 -- with a full market launch in 2016.