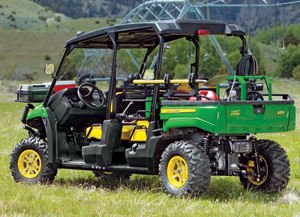 Side-by-side companies fear proposed changes might cause more harm than good
A proposed rule by the U.S. Consumer Product Safety Commission (CPSC) might put side-by-side OEMs under new regulations. On Oct. 31, the CPSC released their intention to regulate recreational off-highway vehicles (ROVs), including side-by-sides used on many farms and ranches. 

The rule would require OEMs to alter design standards in four areas:  
Mandate lateral stability and vehicle handling requirements that specify a minimum level of rollover resistance for ROVs
Require ROVs to exhibit sublimit understeer characteristics
Minimum lateral acceleration on pavement to no more than 15 mph unless seat belts of both the driver and front passengers, if any, are fastened 
Mandate a frame-mounted shoulder bolster to limit ejection of a belted occupant in the event of a rollover.
The proposed rule relies heavily on CPSC assumptions, rather than relevant testing or incident data, alleges the Recreational Off-Highway Vehicle Association (ROHVA). "The CPSC's proposed rule would inappropriately apply design-restrictive standards developed for on-highway vehicles without ensuring the principles apply in off-highway environments," according to a ROHVA press release. The association is sponsored by Arctic Cat, BRP, Honda, John Deere, Kawasaki, Polaris and Yamaha.

"We oppose the CPSC's methodology to mandate the designs of UTVs and feel the industry experts are better suited to make those decisions," says Jason DiFuccia, director of marketing for Polaris Industries' Off-Road Vehicles Division.  

If approved, ROHVA and its member companies plan to contest the rule to ensure vehicles appropriate for off-highway environments are available to consumers. The 75-day comment period is open until Feb. 2, 2015.