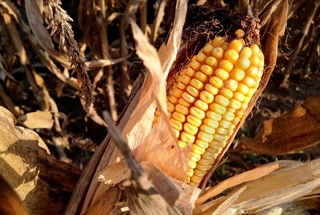 For three generations, Mike Henderson's family has grown corn, soybeans, wheat and millet on almost 1,200 acres along the north side of the Tennessee River on the Wheeler National Wildlife Refuge.
In the same deal that six other cooperative farmers get on their refuge properties, Henderson Farms harvests about 80 percent of the acreage. The refuge takes the other 20 percent as food for waterfowl.
"If it's corn, we knock it down for the ducks and large birds," said Bill Gates, the refuge's wildlife biologist. "We just leave the millet, and it falls on its own accordingly."
Gates knows that without corn, the 3,800 acres of agricultural land aren't enough to support its waterfowl goals using an alternative crop.
But the future of corn across the National Wildlife Refuge System was put in jeopardy this year when officials decided that starting in 2016 no genetically modified crops would be permitted and no neonicotinoid pesticides could be used.
"For the past two years, we've been doing the non-genetically modified seed," Henderson said. "Now they want us to drop the seed treatments on the corn, the 'neons.' As of right now, I don't see me planting any corn on the refuge if I can't find any seeds that are going to meet all the requirements that we have to have."
Alan Marsh, of Marsh Farms, another family that has worked the refuge land for three generations, said he already has taken corn out of production for his shares.
"We're just taking our chances with some soybean and wheat on the refuge," he said. "We'll plant this year in corn and millet for the refuge. A few of the guys are still trying to grow corn (for market) as it is, but we've taken ours out."
Marsh, who farms 400 acres on the refuge, said he hasn't been able to find untreated corn seed.
"It's hard to store seed and bag it without some kind of treatment on it because weevils will eat it up," he said. "The last two years, we've already cut our yields on soybeans by 50 percent when we ran into weed control problems."
Marsh said many chemical companies have taken some of the old chemicals off the market.
"They're not going to bring them back for us on a limited basis," he said. "Major seed companies aren't going to guarantee good genetic seed if they only sell you plain corn without the treatment."
Ted Grantland and his son, David, who operate G&G Farms, of Somerville, have farmed about 300 acres on the refuge since 1970.
"I think people who are pushing this deal probably don't even know what corn looks like growing in the field," Ted Grantland said. "The seed companies aren't doing research on seed that is not genetically modified. The genetics are not as good on the seed that we have to plant. It lowers our production and lowers our profit per acre.
"I really don't know what we'll do in 2016 on the refuge."
The corn debacle began three years ago when several environmental groups took the U.S. Fish and Wildlife Service to court.
"They claimed that a certain policy the refuge system has did not allow use of GMCs on refuges," Gates said. "That is their interpretation of the policy. I don't know if it was the courts that decided or if the NWRS made a decision to do a National Environmental Policy Act document, called an environmental assessment."
A court agreement decided the NWRS would suspend using GMCs until the environmental assessment could be completed. But that became unnecessary with the decision not to use GMCs starting January 2016.
"So the refuge has not allowed farmers to grow GMCs for the past two years," Gates said.
Now the farmers will face a double whammy.
"Some of the same groups were bringing up the other issue to the U.S. Fish and Wildlife Service, the use of neons," Gates said. "That's when the NWRS leadership stepped in and decided that in addition to GMCs, neons could not be used on the refuges after the 2015 farming season."
Gates said at least one of the neons is placed on corn seeds prior to planting by all major seed manufacturers.
"Basically, we have to find a corn seed source that produces it commercially, without the neons, is not genetically modified, and the variety of corn is adapted to local conditions," Gates said. "And it has to be economically viable to the farmer. So far, we don't know of a source of corn seed that meets all those requirements or expectations."
Gates said the reason corn is so important to the refuge is because one acre of corn will support about eight times as many ducks as one acre of millet.
"The normal rotation for farmers on the refuge is corn, winter wheat, then soybeans," Gates said. "The farmer cannot sell millet locally because there is no buyer that will pay him enough money for millet. When we ask him to plant millet, we do so for our shares, not his."