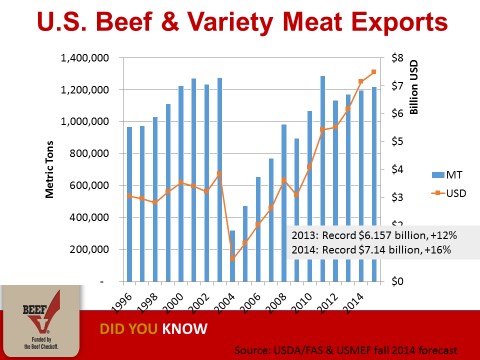 Export value for U.S. beef set a new record in 2014, posting double-digit gains over the previous year's totals, according to statistics released by USDA and compiled by the U.S. Meat Export Federation, a contractor to the beef checkoff.
Beef export value was $7.13 billion – up of 16 percent (and nearly $1 billion) over the previous record, set in 2013. Export volume also increased 2 percent year-on-year to nearly 2.65 billion pounds, which was just short of the 2011 record.
Exports overcame significant challenges to reach these milestones, including market access restrictions in Russia and China, an appreciating U.S. dollar and, most recently, shipping difficulties related to a labor dispute in the West Coast ports.
For the month of December, beef export volume slipped 2 percent year-over-year to 221 million pounds, though value still increased 17 percent to $643.2 million.
"It was an outstanding year for red-meat exports, but headwinds continued to mount late in the year," said USMEF President and CEO Philip Seng. "The West Coast port congestion is extremely troubling, because the delays faced by exporters in December have become even more severe in 2015. If this dispute is not resolved soon, the meat industry will have to win back long-term customers who still want our product, but have no choice but to seek alternative suppliers."
The situation is especially critical because Asian markets take a large volume of chilled U.S. beef and pork, valued at more than $2 billion in 2014.
The strength in international demand was showcased in 2014, as customers paid record prices for U.S. beef, while still purchasing larger volumes. This is especially noteworthy because U.S. cattle prices were significantly higher than prices in Australia and all other major beef-exporting countries.
Exports continue to generate strong returns for producers, as beef-export value per head of fed slaughter averaged a record $297.68 in 2014, up $52.72 from the previous year. For the month of December, export value reached $340.69 per head, up $61.53 from a year ago.
"These exceptional results illustrate the strength of the international markets," Seng said. "In the past five years, per-head export value has more than doubled for beef producers."
Beef exports in 2014 equated to 14 percent of total production (muscle cuts plus variety meat) and 11 percent of muscle cuts alone, up from 13 percent and 10 percent, respectively, a year ago.
Asian markets propel beef export results
U.S. beef performed exceptionally well in key Asian markets in 2014, including:
Exports to Japan increased 3 percent in volume to 531.6 million pounds and 14 percent in value to $1.58 billion. Value eclipsed the 2003 (pre-BSE) mark of $1.39 billion for the first time, though volume was still below the 2003 total.
Hong Kong set new annual records as export volume increased 19 percent to 340.7 million pounds and value surged 40 percent to $1.15 billion.
Exports to South Korea set a new annual value record of $847.4 million, up 39 percent from 2013, while volume increased 12 percent to 259.2 million pounds.
Taiwan also set a new annual value record of $293.6 million – up 15 percent from 2013 – while volume increased 5 percent to 74.5 million pounds.
In Mexico, exports increased 12 percent in volume to 534.8 million pounds and 26 percent in value to $1.17 billion. As USMEF has previously noted, however, issues with the 2013 data suggest these year-over-year increases in exports to Mexico may be overstated.
For more information about U.S. beef exports, visit www.usmef.org.

Source: Cattlemen's Beef Board