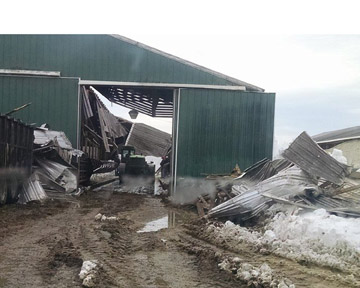 Although most operations are back to normal, some dairies are dealing with barn damage from roofs that collapsed under heavy snow loads.
A week after an epic snowstorm brought milk hauling to a halt in western New York, most dairy operations have returned to normal, although some dairy farms are dealing with damage stemming from barn roofs that collapsed under the weight of heavy snow.
"The roof collapses were the worst part of the storm," Christian Yunker said.
Yunker, a heifer raiser near Batavia, N.Y., had heard of 70-80 collapsed roofs and damaged barns resulting from the load of 4-5 feet of snow.
New York Farm Bureau president Dean Norton, a dairy producer from near Batavia, N.Y., said death losses from roof collapses reached 30-40 dairy cows across multiple locations. Insurance companies are doing investigations as a first step to compensating dairies for the damage and losses.
"We sent a letter to USDA Secretary Tom Vilsack asking him to declare western New York a disaster area," Norton said today.
Such a declaration would allow affected dairies to qualify for low-interest loans to restore damaged property. The New York Farm Bureau is in the process of determining total dollar losses resulting from dumped milk, barn damages, livestock losses and processing shut-downs.
At least eight barns within Upstate Niagara Cooperative's system were damaged as a result of the weight of the snow, reported Kim Pickard-Dudley, general manager of the company's membership division and its chief economist.
Dairy producer Eric Dziedzic of Bliss, N.Y., said he had received an email from the New York Governor's Office last Saturday, offering help from the National Guard to shovel snow off barn roofs. "We didn't need that help, but that was a much appreciated offer," he said.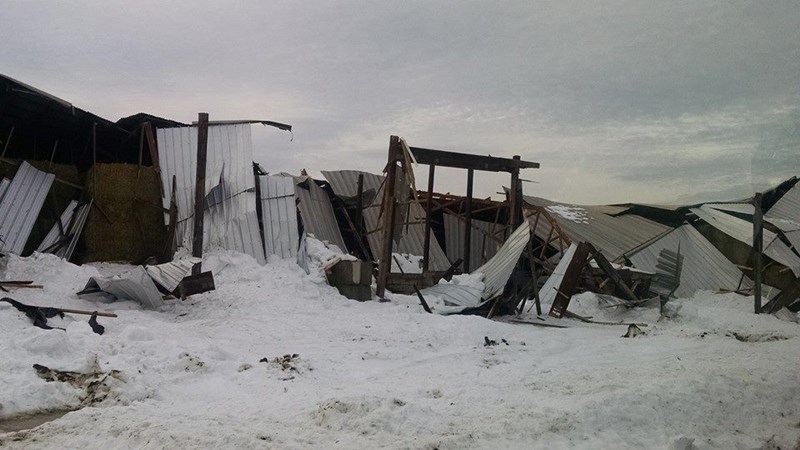 Another view of the dairy barn near Eden, N.Y., whose roof collapsed under the weight of heavy snow from last week's storm. (Photo: Dean Norton)
In addition to property losses, more than 200 loads of milk were dumped in the western New York area on Wednesday, Nov. 19, Norton said. "Milk losses will be in the millions of dollars," he said.
"Most co-ops have some type of insurance plan in place to compensate producer members" when milk has to be dumped, Norton added.
Both Yunker and Dziedzic said last week's snow had thawed. Although minor flooding had been reported in areas south of them, neither had heard of dairies being affected.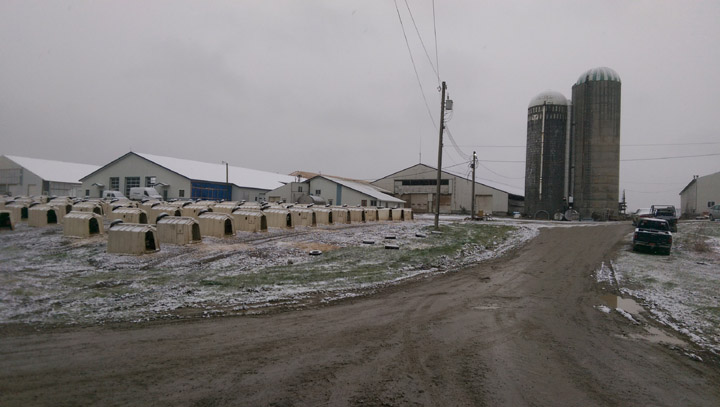 (Above) The snow is nearly gone today at Eric Dziedzic's dairy near Bliss, N.Y., a stark contrast to the same scene (below) last week. (Photos: Eric Dziedzic)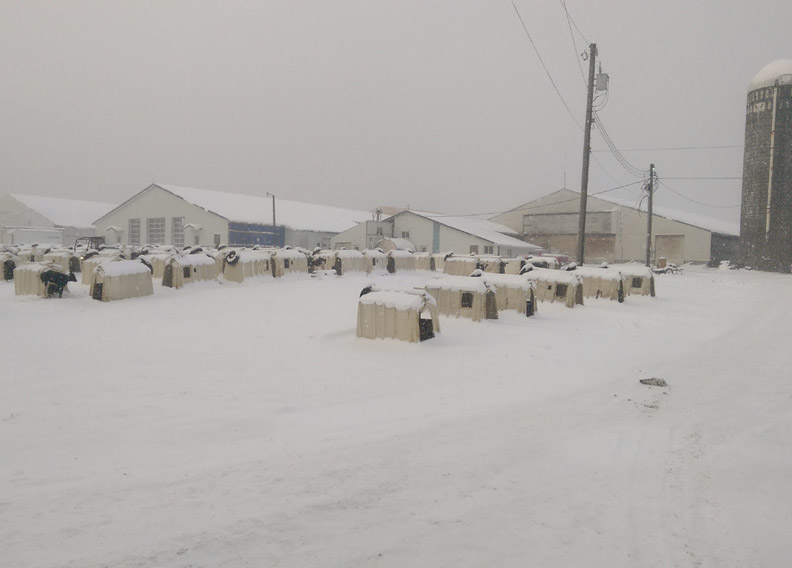 Upstate Niagara Cooperative, a milk processor and dairy product manufacturer with four plants in New York State, is back on its normal schedule after being forced to halt production when milk deliveries from local dairies stopped last week. Road closures and traffic jams prevented milk-hauling trucks to bring in milk to processing plants.
"Our cultured manufacturing plant located in West Seneca was impacted the most by the storm," said Pickard-Dudley. "It was not able to receive milk to speak of from Tuesday to Friday afternoon. We were back up to full production by Saturday and had a good on-hand inventory to fill a lot of the holiday demand."
Upstate Niagara has 360 dairy-farm members throughout western New York State. The company produces milk, dip, ice cream mix, yogurt, and flavored milk-based beverages.
On the fluid milk side of its business, Upstate Niagara managed fairly well through the storm, using its Rochester plant to help supply some of the supermarkets and grocery stores in western New York that remained open during the snowstorm and traffic delays.
More than two dozen farms in the cooperative's system dumped milk at their farm, with the numbers still evolving, said Pickard-Dudley. "Never in my 20-plus-year career have I seen multiple loads of farm milk actually be dumped because the milk truck couldn't get there for a host of weather- or storm-related reasons," she said.
"This was an unprecedented event for anyone to endure," she added. "Now that we've made our way back to 'normal,' I'm so proud of the dedication of our farmers, our haulers and drivers, and our employees for an all-out effort stepping up. They did an amazing job working through the storm to be able to serve our customers."