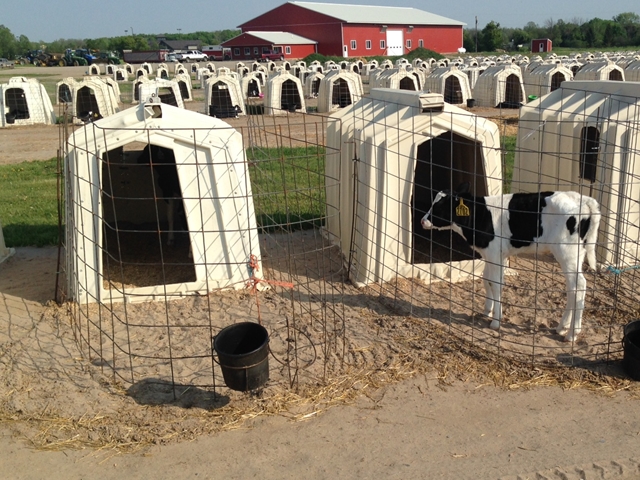 A global glut of milk is now in the market, but dairy producers worry immigration and farm labor issues could dry up milk supply.
"It's a competitive pay. I think we're just having trouble finding enough people to do it," says Kendra Lamb, a dairy farmer in Oakfield, N.Y.
That's especially true for dairy farms in New York. Farms which hire seasonal workers to harvest fruits and vegetables can use the H-2A Visa program. But dairy is not seasonal. It's 24 hours, seven days a week.
"We have no access to H-2A here in dairy in New York. We have no options really to bring a foreign person in unless they have the documents that come through our federal system," says Sarah Noble-Moag who works in dairy production operations in Pavilion, N.Y.
"What we need to see is a guest worker program nationally. New York is not the only one that has labor challenges," says Tonya Van Slyke, executive director of the North East Dairy Producers Association.
These dairies say they're reaching out locally, but aren't have much luck. 
"Local folks tend to really enjoy crop management or be part of the nutrient management program on farms. Milking is often a challenge to find local labor," says Van Slyke.
Lamb agrees. "We list constantly with our local department of labor and on Craigslist," she says. "We're just not finding people who want to come and milk our cows, even as competitively as we're paying."
They say it's especially difficult to find entry-level employees.
"We continue to look for local people. We hire local people. It's just difficult to find that person who wants to put in a long day, get dirty, and come back the next day. The folks we have tried to hire typically will stay six or nine months and then they will go on," says Noble-Moag.
Farm Credit East analyzed the labor issues in New York and found that lawmakers failure to act on agricultural labor issues could lead to fewer farms, fewer jobs, and less community impact. 
"We do have a lot of challenges in New York that's keeping farms from expanding. The first one is really labor," says Van Slyke.
Dairies say they pay well and that employee salaries aren't the problem. However, they may have no choice but to raise wages. A handful of states such as Oregon, California, and New York are raising their minimum wage, and a  $15 wage will be phased in by 2021 in New York.
"That's going to increase our cost structure," says Chris Noble, a dairy farmer in Pavilion, N.Y., who says there are "ramifications on everybody else who is making higher than that. They'll have to move up as well."
Those in the industry say the pay hike will put them at a competitive disadvantage and will not entice more people to the farm. "It's not the money. If they can make $15 at McDonalds, it's an easier job. They're going to go to McDonalds," says Noble-Moag.
Many dairies offer housing, bonuses and other incentives. Lamb says she's already upping the dairy's minimum wage in advance just to stay competitive. But she may need to cut back on some benefits she offers in the future because of the pay hike.
"Right now, we provide free housing to our employees," she says. "That may be something we won't always be willing to do as a hourly wage continues to go up."
Farm Credit East anticipates a hike in the New York minimum wage would likely cut net-farm income by roughly 32% to 51%.
AgDay - Immigration Rule Causing Issues on Dairies - 7/6/16