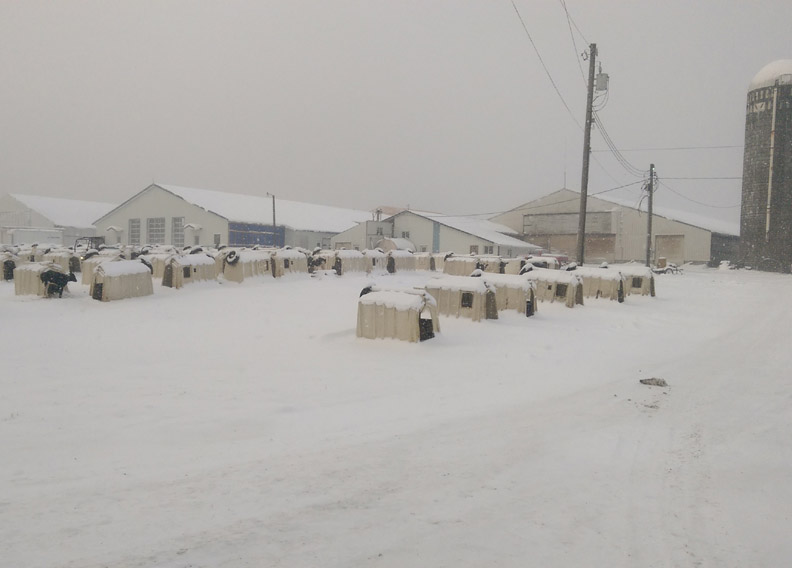 This week's heavy snowfall brings reports of dairies dumping milk due to transportation delays.
As western New York state struggles through an early and brutal winter storm that's brought up to 8 feet of snow, local dairies are coping – and waiting for milk trucks to reach them.
"I know of several farms that have had to dump milk," said Eric Dziedzic, who operates a 950-cow dairy near Bliss, N.Y.
Heavy snow has snarled traffic, preventing many milk trucks from reaching their destinations. Dziedzic said his milk truck driver was stuck for 24 hours in a snowbank near Buffalo, N.Y., between Tuesday and Wednesday.
Dziedzic's father, Paul, serves on the board of Upstate Niagara Cooperative, a milk processor that counts more than 360 family-owned dairy farm-members throughout western New York.  After contacting other board members to see how they were faring, the Dziedzics learned that some dairies had been forced to dump milk when milk trucks didn't arrive.
"This snow is epic but isolated to a fairly small area," said Cornell University dairy economic Andrew M. Novaković. "It is, however, New York's most vital area for milk production and processing."
New York is the nation's fourth-largest milk producing state, after California, Wisconsin and Idaho.
Kim Pickard-Dudley, general manager of Upstate Niagara's Membership Division and the cooperative's chief economist, said today the company's West Seneca plant is still not taking milk. "The entire road has 5 feet of snow and the plows haven't been able to touch it," Pickard-Dudley said. "Teams of pay loaders have been deployed. All of that milk has been diverted."
Upstate Niagara's Buffalo and Sorrento plants and surrounding facilities have physically been able to receive milk but the haulers have not been able to get there, she added.  The roads are either not plowed or have been blocked to all traffic. All diverted milk is headed to the O-At-Ka milk plant located between Buffalo and Rochester, "and, of course, they are full." Pickard-Dudley said.
"The hauling network is an absolute mess," she added. "In some instances, trucks and drivers have been on the road for more than 36 hours, trying to get unloaded."
Milk at dairy farms is not being picked up since haulers can't get to their farms because the trucks are stuck, jammed up in traffic or cannot make it through unplowed roads.
"I've had many farms dump milk," Pickard-Dudley said. "And now, the latest is that barns are collapsing because of the weight of the snow. By the way, 60-70 degree temperatures and rain are in the forecast, so the rain will surely exacerbate the issue badly."
On Christian Yunker's heifer-raising farm near Batavia, N.Y., the snow was only 8 inches deep Wednesday, with another inch or two forecast for today. "But it's a whole different world 15-20 miles south of us," he said.  
Snow had reached 8 feet in those nearby areas, Yunker said, preventing his operation from picking up heifers from customers. "Things stop moving," he said. "It's just a hassle."
Yunker's CY Farms is typically home to 3,800 dairy calves and heifers.
While cows at nearby dairies were coping well in their freestall and tie-stall barns, producers were struggling to get milk trucks into their yards, Yunker added.
Both Dziedzic and Yunker said the storm's impact was harder on people than on cows. "Our barns are warm, and our calves are fine in their individual hutches," Dziedzic said. "But it's not so great for people during the two hours that it takes to feed the calves."
Dziedzic added that he's building a new milking parlor and freestall barn, and that the snow and cold temperatures were hindering outdoor construction crews.
His farm also has 120 acres of corn left to harvest. Dziedzic said he would have to wait until the snow was gone before he could combine the crop but was not worried about the storm's effect on the corn's quality or quantity.
Lake-effect snow that killed eight people and halted travel across western New York may reach as high as 7 feet in some areas before stopping tomorrow, when temperatures will rise along with the risk of flooding, Bloomberg News reported today.