New Holland Pavilions will provide premier living space for Expo's elite dairy cattle
World-class dairy cattle deserve to stay in world-class living accommodations. That's what the elite dairy cattle coming to World Dairy Expo (WDE) now have thanks to two new multi-use pavilions constructed on the Alliant Energy Center grounds.
"These state-of-the-art, modern facilities will enhance the WDE experience for everyone involved—the exhibitors, other attendees and the cattle themselves," says Scott Bentley, WDE general manager. "We're excited about the possibilities this opens up for showcasing all of the elite dairy cattle that are a centerpiece of our show."

Officially called the "New Holland Pavilions at the Alliant Energy Center," the new facilities replace nine barns built on the grounds over the past four decades and two tents constructed annually.

"The old barns were added at different times as events here grew in size," says Ann Marie Magnochi, Expo's Dairy Cattle Show Manager.  "As a result, there was a lot of variability in the layout of the campus. The new facilities will be consistent from front to back. People attending Expo will have a much more streamlined experience."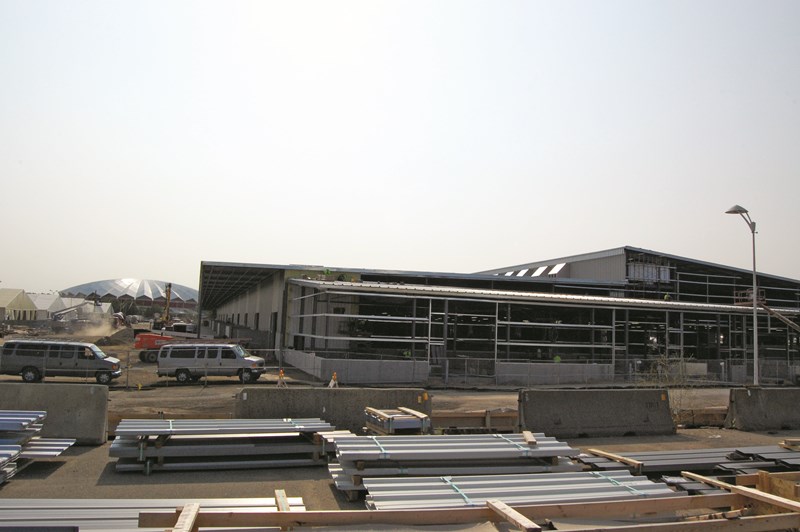 This view of the New Holland Pavilion 2 looks east to the Coliseum and the rest of the Alliant Energy Center site.
---
Some of the highlights:
Pavilion 1 is 90,000 sq. ft. It features a mezzanine level and pre-function space, concessions, restrooms with showers, livestock stalls, wash bays and more. Pavilion 2, measuring 200,000 sq. ft., has additional livestock stalls and restrooms, and a 2x12 walk-through BouMatic milking parlor. Together, the two pavilions will provide more than enough space for animals participating in Expo's cattle shows. In fact, the total capacity of the buildings is 2,600 cattle. Having the pavilions in place also frees up 600 additional parking spaces on the grounds since the two large tents previously used to house cattle are no longer needed.
Airflow and ventilation in the new buildings are controlled via a state-of-the-art, positive-pressure system. "The improved air quality will be one of the first things people notice when they step inside the new buildings," Magnochi says. "There isn't any air conditioning. But the new system provides extremely efficient air exchange rates."
Wash-racks and covered manure storage areas line the north and south outside walls. "Things are set up so that the farthest anyone will have to push a wheel barrow to dump manure or lead a cow to the wash rack is 150'," Magnochi explains. "Overall it will be a cleaner, tidier environment with easier access. It will provide much better working space for exhibitors. And it will be a lot more inviting for spectators."
Modular cattle stalling systems in the facility feature metal cattle panels, custom manufactured by Sioux Steel in Sioux Falls, S.D. A channel running along the top of each panel will make it much more convenient for cattle exhibitors to run water hoses and extension cords for fans, lights and fitting equipment.
"Exhibitors won't need to spend time running cords here and there and jerry-rigging equipment anymore. They can leave the duct tape at home," Magnochi says.
A covered walkway runs the length of both buildings. "If you want to go from a stall in the very back corner of Pavilion 2 to the front of Pavilion 1 and it's raining, you can make the entire trip under a roof (excluding the open span between the two pavilions)," Magnochi says. "If it's a hot, sunny day, you'll have some shade."
A wide, center aisle running from east to west in both buildings will lead to a more enjoyable experience for exhibitors and visitors alike. "Among other things, it will be a lot easier to find a specific animal or show-string that you want to see (see "Find Your Favorite Cow" at right). You won't have to zig-zag through a bunch of crowded aisles or go searching from barn to barn. This will be a lot more user-friendly," she adds.

A housing task force, made up of cattle exhibitors, dairy cattle show superintendents and WDE staff was assembled to establish objective, sound and sustainable criteria for animal and exhibitor stalling and housing during WDE.

"We felt it was important to get the input of the people who would be using the buildings day in and day out during Expo," Magnochi says.

"The committee looked at feed and bedding storage needs, developed protocols for checking animals in and out and addressed stall criteria and distribution," she says.

The total cost of building the New Holland Pavilions came in at nearly $24 million. Industry partners that helped with funding the project include Dane County, Wis., the State of Wisconsin, World Dairy Expo,

Midwest Horse Fair/Wisconsin Horse Council, Centerplate, New Holland and BouMatic.
---
By the Numbers
By any measure, the newly completed New Holland Pavilions that are being unveiled at this year's World Dairy Expo are a marvel of architectural and engineering design. Here's a quick look at a few numbers that tell the story:
| | |
| --- | --- |
| 45 | Cement trucks delivered more than 1.5 million pounds of material for the first concrete pour of the pavilions' floor in mid-June. During the next several weeks, 17 additional pours were carried out. |
| 54 | Intake fans have been installed in the Pavilions' state-of-the-art positive pressure ventilation system. |
| 140 | Tons of concrete and asphalt were recycled after the nine existing dairy barns at the Alliant Energy Center (AEC) were demolished to make room for the new pavilions. About 12,000 tons of steel was also recycled. |
| 171 | Days between the official ribbon cutting ceremony, marking the beginning of construction on the project on April 11, and the opening day of 2014 World Dairy Expo on Sept. 29. |
| 600 | Additional parking spaces created on the AEC grounds now that the large dairy cattle housing tents are no longer needed during World Dairy Expo. |
| 1,186 | Tons of steel used in the construction of the pavilions. |
| 2,500 | Number of dairy cattle that will be housed in the pavilions during World Dairy Expo. |
| 33,209 | Bolts used to construct the pre-engineered metal buildings. |
| 290,000 | Square feet covered by the two new buildings. That's just shy of 7 acres. |
| 24 million | Cost, in U.S. dollars, of the construction project. |
---
Find Your Favorite Cow At Expo
With more than 2,500 dairy cattle on hand, locating a specific cow or exhibitor on the Alliant Energy Center grounds during Expo has often been a daunting undertaking for many attendees.
No longer. Now, with a new "Dairy Cattle Show Animal and Exhibitor" search tool, available on the World Dairy Expo website (www.worlddairyexpo.com), attendees can carry out a location search in a few seconds.

To use the tool, simply type in part of the animal or exhibitor name (Examples: "Maya" or "Ty-D"). The tool will respond by displaying a list of the complete animal name, exhibitor and stalling location in the New Holland Pavilions. Click on the stall information, and you'll be immediately linked to a map highlighting the stalling section location in the Pavillions.