New Holland unveiled its Hydrogen fuel cell tractor in 2009.
Still in development, the NH2 has evolved from the concept model with double the power (from 50 to 100 kw), a new CVT, increased torque, a suspended front axle and a front loader mounting point. Using a New Holland T6.140 production model as a base, the NH2 has two on-board electric motors, one for traction and one to operate the PTO and auxiliary circuits.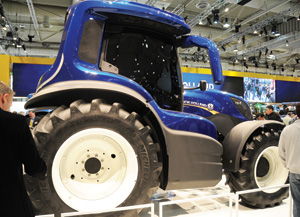 The unit can work up to three hours, depending on the load. Performance levels of the new NH2 are more than equal to those of a tractor similar size with a conventional engine with pulling power comparable to that of a standard 120 hp diesel tractor. However, the tractor produces zero harmful exhaust emissions—only heat and water vapor.
This summer, the tractor will be put to work on the La Bellotta farm in Venaria, near Turin, New Holland's first Energy Independent Farm. The project, initiated by New Holland and implemented in collaboration with a consortium of 13 partners including API-COM, CNR, CRF, Elasis, ENEA, Envi-Park, Ferrari Costruzioni Meccaniche, Roter Italia, Sapio Verderone, Tonutti and Zefiro, is partly funded by the Italian Ministry for Economic Development.
As for the actual production of hydrogen, three methods are being evaluated:
The first is the electrolysis of water, its decompositon into oxygen and hydrogen, using electrical energy produced by a photovoltaic system already installed on the farm.
The second method is that of small scale, steam reforming natural gas; should this prove practically feasible and economically viable, it would be possible to use the methane produced by the digesters of the one MegaWatt biogas generator that has been in operation at La Bellotta for over a year.
The third method of producing hydrogen is that of exploiting the dark anaerobic fermentation of biomass: a biological process generating a blend of gases that contains a significant proportion of hydrogen. This method will also be evaluated in terms of feasibility, costs and benefits.
A hydrogen storage tank will be installed on-site, connected to the compressor at a special filling station, so that the NH2 can operate and refuel on the farm just like a conventional tractor.
For full information on New Holland's Clean Energy Leader strategy, visit
www.thecleanenergyleader.com
. The site has a video that shows some behind the scenes development of the NH2.