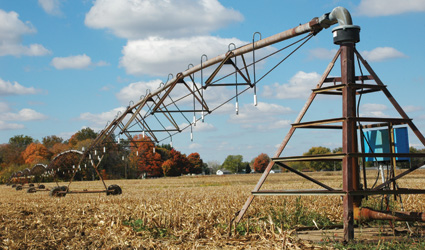 A New Mexico city struggling with drought is considering a plan to pay farmers with federal grant money to stop watering crops.
Clovis-area farmers would be paid about $400 an acre to make the switch under a proposed conservation program aimed at changing the way farmers use their water supply, KRQE-TV reports Wednesday.
Farmers would then have to rely on rain and some might have to switch to crops requiring less water.
Frank Blackburn, a farmer in the region who has more than 60 years of farming experience, said the transition would be difficult for many area farmers. But he agreed something must be done.
"We will be out of water or I guess have less water," he said.
The city of Clovis has applied for the grant and is awaiting word on the funding.
Despite recent rainfall, much of New Mexico remains in a moderate to severe drought. There are pockets on in western areas of the state where extreme drought conditions persist, according to the National Drought Mitigation Center.
In Clovis, officials say years of drought and extensive irrigation has nearly depleted the Ogallala Aquifer, the city's only source of drinking water.
Ten years ago, a good well in the area produced about 1,200 gallons of water a minute, officials said.
"Today, if you have a well that's producing 200 gallons per minute you have a good well," Clovis Mayor David Landsford said. "It's a concern, and if we don't conserve the ground water supply that we have today, then we are going to be regretting that decision in the near future."