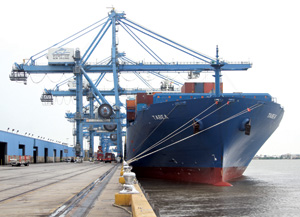 With exports reaching a record high of $141.3 billion last year, the U.S. is the world's leading exporter of agricultural products, according to The Economic Contribution of America's Farmers and the Importance of Agricultural Exports, a new report released by the Joint Economic Committee.

The report shows that the value of agricultural exports has doubled during the last decade, and growth in developing countries is expected to further increase demand for U.S. agricultural products.

 "Agriculture is a bright spot as our economy gets back on track and represents one of the few areas where we actually have a trade surplus," says Senator Debbie Stabenow, chairwoman of the U.S. Senate Committee on Agriculture, Nutrition and Forestry. "As the report shows, more exports mean more jobs here at home."

To take advantage of export growth opportunities, the Joint Economic Committee recommends: enacting a long-term farm bill to provide certainty for agriculture, pushing for provisions that reduce barriers to ag exports, promoting export opportunities for small and beginning farmers, investing in transportation infrastructure, and enacting comprehensive immigration reform to bring stability to the workforce.